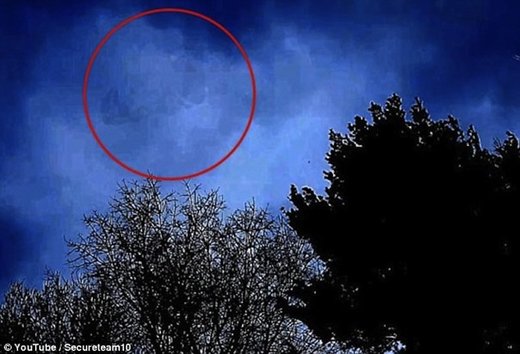 A UFO hunter claims to have been sent some 'mind-bending' footage showing 'a camouflaged machine' patrolling earth from the clouds.
According to the extra-terrestrial enthusiast, who narrates YouTube channel
SecureTeam10
, the video shows the mysterious craft in the sky over Frayser in North Memphis, Tennessee.
Upon first glance it is difficult to see anything lurking behind the clouds, but after studying an 'exposure-enhanced' version of the same tape some bizarre shadows emerge.
According to the UFO enthusiast, the footage was captured on March 28 of this year and sent to him by a Mr Schneider.
The video maker claimed that he heard loud booming sounds, which he couldn't explain, coming from the sky in the days leading up to the sighting.

Comment: The following is the full version of the video. The producers also compare the footage with photos and video of other 'UFO's' and suggest that there are many such craft which quite often go mostly undetected.


Comment:
One of the comments towards the end of the presentation is that there's nothing to be afraid of regarding the UFO's since, if whoever was piloting these things wanted to invade they'd have done so already.
We take a different view
.
This led to him venturing outside on numerous occasions to look for the source of the noise and even looking on the internet for an explanation.
After giving up hope of working out what the sounds could be the man reportedly experienced an 'eerie feeling there was something above him in the sky'.
Reaching for this camera, the man started filming and says he saw for a split second a massive 'machine-like structure moving in the sky'.
Mr Schneider claims that it broke through the clouds for only a moment and was easier to see with the naked eye.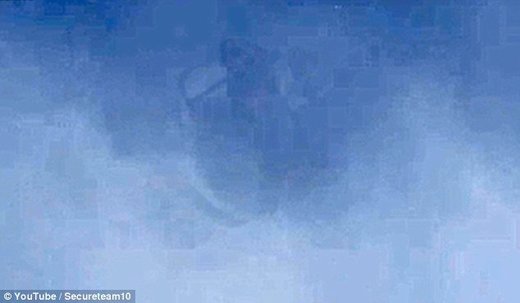 Discussing the footage, the SecureTeam10 UFO hunter says: 'I can't even describe it.
'Sitting up in the clouds looking to be almost cloaked or see-through as if it were made of glass or had some sort of invisibility cloak around it to where it only became visible for a few moments.'
He added that it is almost as if the clouds that surrounded it brought out the shape of the 'machine' that would otherwise be invisible.
The UFO hunter concluded that the object does not look like a 'secret government craft' due to the 'rings that wrap around' the back of it.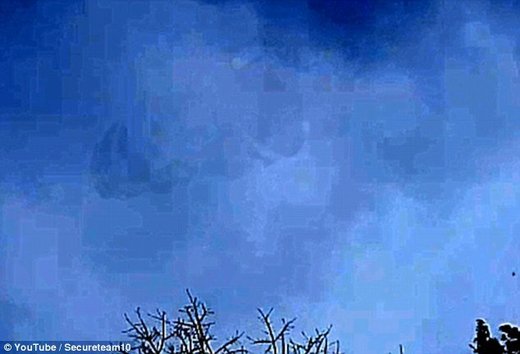 Since appearing online fans of the channel have commented on the clip to share their excitement at the latest sighting.
Others were less convinced however, with one suggesting 'the craft' was just a dark spot in a cloud.