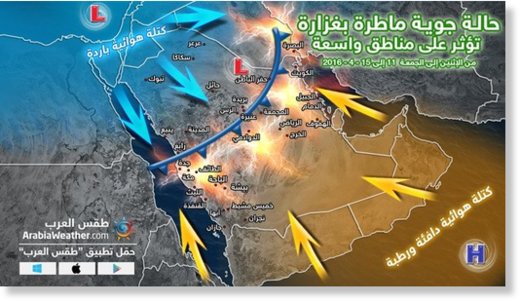 These are the first videos erupting on social network of the biblical flooding hitting Ta'if, Saudi Arabia right now.
And when I say biblical, it's because I didn't want to use apocalyptical!
Unstable conditions started sweeping across Saudi Arabia on Monday, April 3, 2016.
And reinforced during the beginning of the week to deliver heavy downpours on Ta'if and its region.
The low is sweeping from North to South and has created biblical hailstorms in the central part of the country on April 6, 2016.
Extreme gust of winds are also accompanying the stormy weather sometimes creating sand tornado and sandstorms around Al-Jouf, Hail, Tabuk and Medina.
So the cold air mass coming from the north and the warm and moist air coming from the south created a kind of belt in the middle of the country which creates intense and apocalyptical thunderstorms (see map above).
Ta'if is a city in Mecca Province of Saudi Arabia situated in the Al-Sarawat Mountains and is right in the eye of the storm.
This extreme weather is also present in Kuwait, Qatar, Bahrain and western Yemen.