Torrential rain has caused landslides in parts of West and North Sumatra, cutting off access and disrupting economic activity.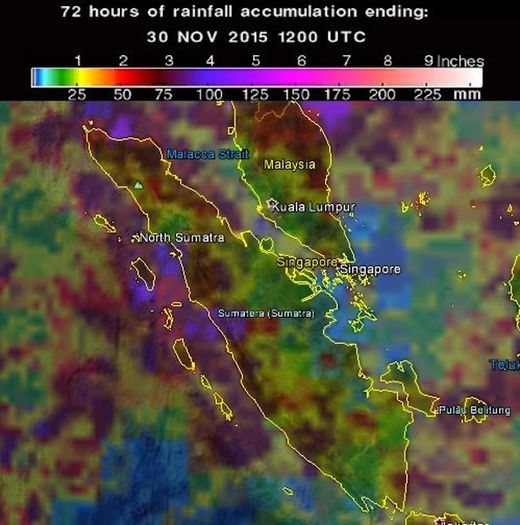 A 150-meter stretch of the highway connecting West Sumatra and Riau in Jorong Sopang, Pangkalan Koto Baru, Limapuluh Kota regency,
was engulfed by up to a meter of floodwater
on Sunday at 5 a.m. local time. Limapuluh Kota Disaster Mitigation Agency (BPBD) head Nasriyanto said the flooding was triggered by the overflowing Batang Manggilang River.
"Only large trucks were able to pass, resulting in other vehicles from Pekanbaru and Payakumbuh backing up 2 kilometers for eight hours," Nasriyanto told The
Jakarta Post
on Sunday.
He said the heavy rain that had drenched the region in the past three days had triggered floods and landslides in a number of locations in the regency. At least 500 homes were engulfed by over
50 centimeters of floodwater
and eight homes were reportedly damaged by a landslide on Sunday morning.
"We, together with residents, are currently moving residents and livestock to safer areas. Reports are coming in, but no casualties have been reported so far," said Nasriyanto. Floods have taken place in Taram and Sarilamak villages in Harau district, Payakumbuh, Guguk, Lareh Sago Halaban and Kapur Sembilan districts.
Two homes were destroyed in Kapur Sembilan district and six in Taneh Bukit, but no casualties were reported. Ten homes were isolated by floods in Sago Halaban. "We have further heightened vigilance because the Meteorology, Climatology and Geophysics Agency [BMKG] predicts high rainfall on Sunday and Monday. We urge residents living in dangerous areas to increase awareness, and if need be evacuate," said Nasriyanto.
A landslide also took place in Agam regency on Sunday morning. The road in Matur district was buried by landslides in two places. The landslides also carried rocks. The provincial public works agency deployed heavy machinery to clear the affected areas.
On Saturday, the trans-Sumatra highway to Medan, North Sumatra, in Agam regency, or 16 km from Bukittinggi, was completely cut off by a landslide that occurred at 4:30 a.m. Meanwhile, Karo regency administration of North Sumatra estimated losses of hundreds of millions of rupiah due to a landslide in Doulu village, which buried four houses and a motorcycle on Saturday. Doulu village chief Takalin Purba said no casualties were reported in the disaster on Saturday.
"Four homes and a motorcycle were buried by the landslide. Fortunately, there were no casualties, but damages are estimated to reach hundreds of millions [of rupiah]," Takalin told the
Post
on Sunday. Takalin said the displaced residents were distraught as did not know where they would live. Alex Brahmana, whose house was buried by the landslide, said that in the meantime he and his family would stay with relatives in Medan as their home was destroyed by the landslide. Alex added that the landslide was triggered by torrential rain from Nov. 27 evening. He said four homes were buried by the landslide.