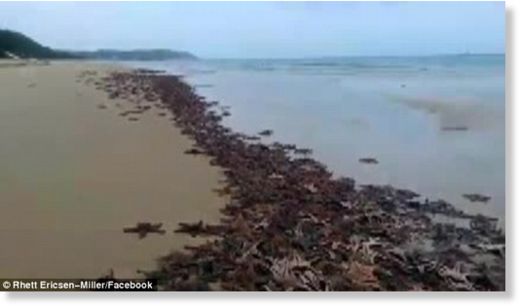 Thousands of dying starfish have mysteriously washed up on an island in what has been deemed a rare natural phenomenon.
Tour guide Rhett Ericsen-Miller stumbled upon the stranded sealife with a tour group near Tangalooma Wrecks, a fleet of shipwrecks, in southeast Queensland's Moreton Island.
The video he uploaded on Facebook has amassed nearly 20 thousand views, while scientists are unsure of exactly what caused the mass stranding.
The vision shows a long stretch of the island's shore lined with the fish, making it impossible to throw them all back into the water.
A Queensland Parks and Wildlife Service spokeswoman told
Brisbane Times
it could have been caused by strong winds
or a dramatic change in water temperatures.
'As far as we are aware it's a natural phenomenon, and at this stage we have no information to indicate otherwise,' she said.
University of Queensland marine biologist Kathy Townsend, whose research centre is on the island, also believed humans were not behind the phenomenon.
'It could have been a case that they were all together, that they were spawning and then conditions changed and they all got washed up on shore.'
However staff from Maritime Safety Queensland were forced to remove parts of the nearby Tangalooma Wrecks earlier this month following concerns it may have been riddled with asbestos.