This story appeared two days ago on the UK
Telegraph's
live news reports on their website as part of the ongoing anti-terror operation in France and Belgium. As noted by the
Telegraph's
editors, the story was gleaned from televised news reports from French TV channels M6 and France 3.
Since then the information has disappeared from the
Telegraph's updated web page where it first appeared.
"Up to ten occupants of cars with Belgian numberplates "cleaned up" the flat of the mother of Hasna Aitboulahcen, hours after she was killed in firefight with police in Saint-Denis, according to French reports.

The suspects drove to the flat in Aulnay-sous-Bois, northeast of the capital, in three cars with Belgian number plates on Wednesday night for what "several witnesses" are cited as calling a "clean up" operation, according to M6 and France 3 TV."
About one hour after this clean up operation, French police arrived but were obviously a little behind the game.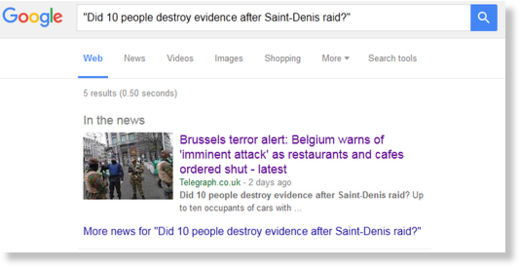 With the news that after the 7 hour shootout at the flat in St. Denis last Wednesday
just one 9mm pistol was found in the apartment
- despite the fact that police
came under sustained automatic fire from "true professionals"
according to the chief officer on the scene, Jean-Michel Fauvergue, head of the elite anti-terrorist force Raid - it is becoming
increasingly clear that many more people than the claimed 9 terrorists were involved in the Paris attacks and its aftermath in St. Denis, and French authorities MUST, at this point, be aware of this fact.