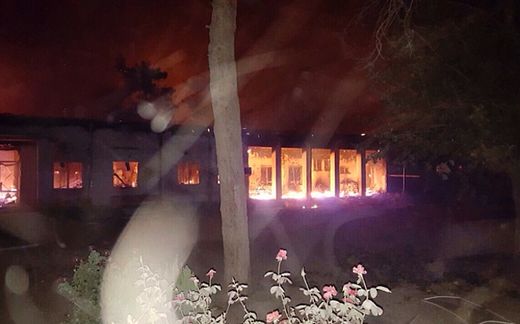 Press TV has interviewed Tighe Barry, an activist with CODEPINK in Washington, to discuss the statements by Doctors Without Borders, also known by its French acronym MSF, saying
it has not yet found any evidence that US fighter jets attacked one of its hospitals in Afghanistan's embattled city of Kunduz by mistake and that the raid seems to have had no purpose but to "kill and destroy."
Following is a rough transcription of the interview:
Press TV: This is the one story that seems not be going away for the US, the details only seem to get worse. What kind of pressure do you think this puts on the US for accountability?

Barry: Well without a doubt this puts a lot of pressure on the [US President Barack] Obama administration as far as external foreign affairs is considered. But the fact is that these war crimes have been going on since 2001 and they will continue.

Now the United States is putting boots on the ground in Syria and they are not leaving Afghanistan. The record shows that the United States has committed war crime after war crime. They support war criminals in Israel, in Saudi Arabia and they are implicit in the blood and deaths of many, many people around this globe. Until and unless the world stands up and the people in United States stand up and tell the United States that it can no longer permit the human rights violations; the mass murder that it is committing and allow free and independent panels to investigate these things, all these war crimes will be investigated by the perpetrators.
Press TV: And Doctor Without Borders has not backed down since day one and I am wondering is it almost becoming an example for others who as you correctly said many such cases have happened which do go unreported of course, do you think it will be becoming an example for others to then take up their claims as well?

Barry: Well we certainly hope so and a prestigious organization such as Medecins Sans Frontieres (MSF), Doctor Without Borders, should have the backing of International Red Cross, the Red Crescent, it should be talked about in the halls of the UN, the European Union, European Parliament. The country of France should stand up as the host of this organization and say no more and 'we are going to investigate'. We see the investigations that go on and on and on that never produce any results other than 'oops, we are sorry'.

And I hope that in my country ..., we are every single day ..., for example I am leaving for Lebanon this evening to witness the catastrophe that is taking place in that country with the Syrian refugees pouring over the border due to the complicity of the United States in bombing that country and it is time for the United States to pull back and realize that it is not the world policeman.