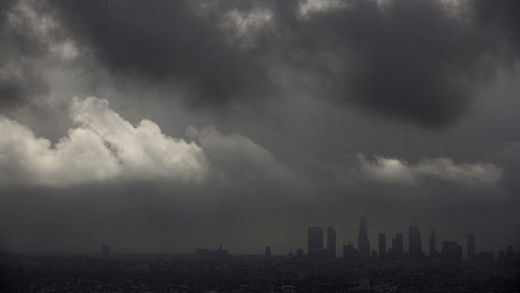 The Sierra Nevada could get up to a foot of snow Monday as a wet storm moves across California's drought-stricken mountains and valleys, bringing rain and cold temperatures.
Described as the first significant storm of the season, snow began accumulating overnight in the northern Sierra Nevada, dusting the parched mountains with about nine inches of powder, said Eric Kurth, a meteorologist with the National Weather Service in Sacramento.
The snowstorm caused unexpected chaos on U.S. 50 and Interstate 80 in El Dorado County, where drivers were required to use tire chains on the slick roads.
Kurth said he visited the Sierras on Sunday and passed a vehicle carrying paddleboards on its roof.
"Now there is snow," he said.
The sudden weather shift is the result of a cold Pacific storm system moving into the area, producing snow over the Sierra and widespread rain, Kurth said. Thunderstorms over communities recently affected by the Butte, Jerusalem, Rocky and Valley fires could bring the potential of mud and debris flows.
Emergency personnel were closely monitoring thunderstorm activity Monday, Kurth said.
Snow is good news for the Sierra Nevada mountains, which officials said hit a record low this year. Snow in the Sierra Nevada provides one-third of California's water supply.
In a paper published in September in the journal of
Nature Climate Change
, scientists said the
snow levels in the Sierra Nevada were the lowest in more than 500 years
.
"It's certainly good to see the snow falling," he said.
But the snow may not stick very long. Some of the snow is likely to melt away by the end of the week when warm temperatures are expected to return.
In Southern California, the first relatively cold storm system of the season will move into the region Monday and an associated cold front will bring showers to the Central Coast, according to a National Weather Service statement.
Patchy drizzle and fog across Southern California on Monday morning were expected to continue for several hours. In Los Angeles County, there was a 40% to 50% chance of rain Monday.
Showers are more likely in Santa Barbara and San Luis Obispo counties, where there is also a slight chance of thunderstorms through Monday evening.
The highest rainfall totals will occur over the Central Coast and adjacent foothills with 1/4 of an inch to 3/4 of an inch expected. Up to 1/3 of an inch is expected over interior San Luis Obispo and Santa Barbara counties. Ventura and Los Angeles counties will likely see less than 1/4 of an inch of rain.
On Monday, highs around 70 are expected in the coastal and valley areas and upper 60s in the Antelope Valley.
"We expect a continuing cooling trend into tomorrow -- being our coldest day," said Robbie Munroe, a meteorologist with the National Weather Service.
Tuesday will bring widespread temperatures of 30s and 40s across some of the higher terrain, with upper 60s to around 70 for the coastal and valley areas.
Gusty southwest winds will increase Monday across the mountains in Los Angeles and Ventura counties and the Antelope Valley.