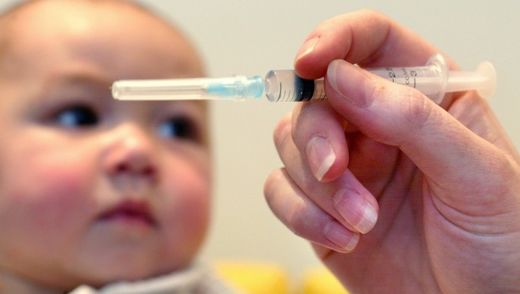 Immunisation experts and the Royal Australasian College of Physicians have warned the federal government's "no jab no play" legislation will do little to boost childhood immunisation rates and could penalise children from lower socio-economic backgrounds who are excluded from childcare.
From January 1, 2016
, families of unvaccinated children will no longer be eligible for subsidised childcare, worth thousands of dollars a year, if their children are not up to date with their vaccinations. The same will apply to the family tax benefit part A end of year supplement.

Comment: Read more about the Australian 'No Jab, No Pay' vaccination policy:
But immunisation expert Julie Leask has told a Senate committee looking at the legislation that
"shutting out the unvaccinated from childcare by removing its affordability will not shut out the risks from vaccine preventable diseases"
.
Associate Professor Leask, from the University of Sydney, said the legislation was aimed at people who were registered as conscientious objectors and make up 1.77 per cent of all children but would do little to capture the further 7 per cent of children whose vaccinations were not up to date for other reasons.
"Those who are willing but late for practical reasons need other measures that focus on removing logistical and financial barriers and minimising missed opportunities," Associate Professor Leask told the committee hearing in Brisbane on Monday.
No longer allowing people to register as conscientious objectors would deprive researchers of valuable information about immunisation rates, she said, which would make targeting people much more difficult.
The government is making the changes to boost immunisation rates.
It argues parents will still be free to choose not to vaccinate their children but will no longer be supported by the taxpayer.
Associate Professor Leask's views were shared by the Royal Australasian College of Physicians, which argued that although it was a strong advocate of vaccination it did not support "routinely denying children or their family's access to social benefits".
"Denying access to these payments has the potential to entrench a child's disadvantage," the president of the college's paediatrics and child health division, Nicki Murdock, said.
"Linking taxation benefits to to compulsory vaccinations is an ineffective mechanism for increasing vaccination uptake. Of the small proportion of parents who fail to vaccinate their children, few are conscientious objectors. The majority fail to vaccinate their children due to other reasons, primarily difficulty of health care access."
Parental advocacy group The Parenthood has argued strongly in favour of the proposed changes.
"Whilst it is important to help ensure no child is denied their right to access high quality early education and care, we need to equally ensure all children are safe when in childcare," The Parenthood's executive director, Jo Briskey, said.
"Therefore, having to be up to date with immunisation as a requirement for childcare enrollment and the receipt of government childcare subsidies sends a strong signal to all parents that vaccinations are necessary and are safe."
Comment:
Vaccines are not confirmed as safe! Denying parents the right to choose, based on
informed consent
, sends a strong signal that compulsory vaccinations are the intended goal!
Informed consent is the process by which the treating health care provider discloses appropriate information to their patient so that the patient may make a voluntary choice to accept or refuse treatment. It originates from the legal and ethical right that the patient has to direct what happens to their body, and from the ethical duty of the physician to involve the patient in their health care. Concerning the current hot button area of vaccination in the United States, the patient is not given proper informed consent of side effects or the actual vaccine inserts to look at prior to injection. If they did receive the insert, they would quickly see the repeated words "there have been no controlled trials" and "safety and effectiveness have not been established."