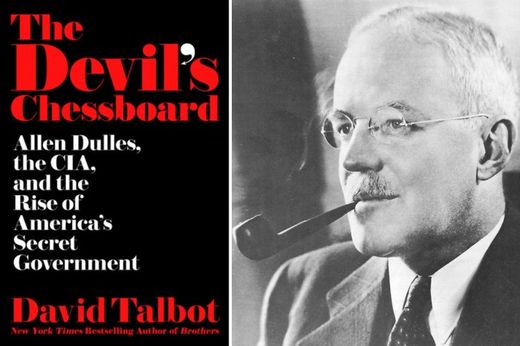 Many of you will be intimately familiar with the name Allen Dulles. Younger readers, of my generation or below, will be far less so. It is precisely because the youth of this nation remain so ignorant of the nefarious characters in America's past, that David Talbot's recently published book,
The Devil's Chessboard: Allen Dulles, the CIA, and the Rise of America's Secret Government
, is so incredibly important.
Mr. Talbot has been recently conducting invaluable interviews about the book with various media organizations. One of the best I've seen is
with Mother Jones
. Here's some of what he had to say about America's longest serving CIA director:
But what I was really trying to do was a biography on the American power elite from World War II up to the 60s. That was the key period when the national security state was constructed in this country, and where it begins to overshadow American democracy. It's almost like Game of Thrones to me, where you have the dynastic struggles between these power groups within the American system for control of the country and the world.

I focused on those elements that I thought were important to understanding him. I thought other books covered that ground fairly well before me. But what they left out was the interesting nuances and shadow aspects of Dulles's biography. I think that you can make a case, although I didn't explicitly say this in the book, for Allen Dulles being a psychopath.

They've done studies of people in power, and they all have to be, to some extent, on the spectrum. You have to be unfeeling to a certain extent to send people to their death in war and take the kind of actions that men and women in power routinely have to take. But with Dulles, I think he went to the next step. His own wife and mistress called him "the Shark." His favorite word was whether you were "useful" to him or not. And this went for people he was sleeping with or people he was manipulating in espionage or so on. He was the kind of man that could cold-bloodedly, again and again, send people to their death, including people he was familiar with and supposedly fond of.

There's a thread there between people like Dulles up through Dick Cheney and [Donald] Rumsfeld—who was sitting at Dulles's knee at one point. I was fascinated to find that correspondence between a young Congressman Rumsfeld and Allen Dulles, who he was looking to for wisdom and guidance as a young politician.

Absolutely. The surveillance state that Snowden and others have exposed is very much a legacy of the Dulles past. I think Dulles would have been delighted by how technology and other developments have allowed the American security state to go much further than he went. He had to build a team of cutthroats and assassins on the ground to go around eliminating the people he wanted to eliminate, who he felt were in the way of American interests. He called them communists. We call them terrorists today. And of course the most controversial part of my book, I'm sure, will be the end, where I say there was blowback from that. Because that killing machine in some way was brought back home.
How about Dulles' role in the assassination of JFK? Talbot pulls no punches here either...
To me it's one of the greatest examples of media incompetence and negligence in American history. I even confronted Ben Bradlee about this, who was probably JFK's closest friend in the Washington press corps and wrote a book all about JFK and their close friendship. "Why didn't you, with your investigative resources, try to get [to] the bottom of it?" You should read what he says in Brothers, but basically it came down to, "Well, I thought it would ruin my career."

I think I have studied this about as much as anyone in my generation at this point, and my final conclusion after 50 years was we have to go there, we have to look at the fact that there's a wealth of circumstantial evidence that says not only was there, at the highest level, CIA involvement. Probably in the assassination cover-up. But beyond the CIA, because the CIA wouldn't have acted on its own.
But the CIA are good guys now. Or so the propagandized American public believes...
Now check out David's interview with Amy Goodman of
Democracy Now
:

Comment: Terrific interview below. Its obvious by the things he says that David Talbot has done his homework (just try and forget that he's speaking to 911 gatekeeper Amy Goodman).