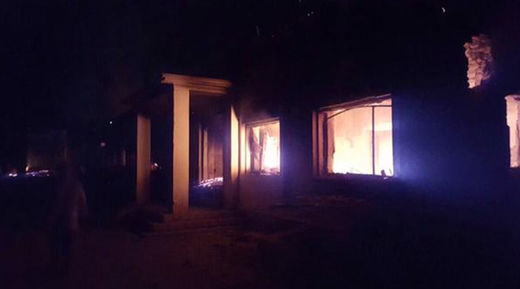 Medecins Sans Frontieres says it gave the coordinates of hospital hit by an airstrike to US forces several times.

A hospital in the Afghan city of Kunduz has been hit and partially destroyed in an overnight "aerial attack" that killed at least nine Medecins Sans Frontieres staff.
NATO has admitted a
US airstrike
may have caused accidental "collateral damage."
"Collateral damage":
RT news, 3 Oct, 2015:
US forces conducted an airstrike in Kunduz at 2:15am on Saturday, said NATO coalition spokesman Colonel Brian Tribus. "The strike may have resulted in collateral damage to a nearby medical facility," he said. "This incident is under investigation."

"We are deeply shocked by the attack, the killing of our staff and patients and the heavy toll it has inflicted on healthcare in Kunduz," Medecins Sans Frontieres (Doctors Without Borders) said in a statement.

Three MSF staff have been confirmed dead, while more than 30 are unaccounted for, according to the organization's official statement.
The US formally wrapped up its combat mission in Afghanistan at the end 2014, but some 10,000 US troops stay in the country.
American forces are supposed to leave Afghanistan by the end of 2016
. Talat Masood, a retired lieutenant-general of the Pakistan Army, thinks there's a good chance U.S. soldiers will end up staying for longer.
At the time that the "aerial attack" occurred there were over 80 personnel, both local and international, inside the building, treating over 105 patients
. At least sixty people were killed and around 400 wounded in the fighting in Kunduz since Monday, the spokesman for the Ministry of Public Health, Wahidullah Mayar, wrote on his Twitter account. The government says 200 Taliban fighters were killed.
Dr Masood Nasim, who was leading the MSF medical team at trauma hospital in Kunduz, said on Thursday that his facility has been at the front line since the hostilities began on September 28.
"Early on Monday morning, I came to MSF's hospital here in Kunduz after hearing the sound of shells falling.
By midday our hospital was on the frontline, with fighting right outside the gate. You could hear the sound of shelling, rockets and airplanes. Some bullets have come into the hospital, some even through the roof of the intensive care unit
," Nasim said.
Adil Akbar, a doctor at the hospital who was on duty at the time, told AP that the operating theater, emergency room and other parts of the hospital complex had been struck in the bombing. "I managed to escape after attack but I know that most of the staff and even some of the patients are missing," he said.