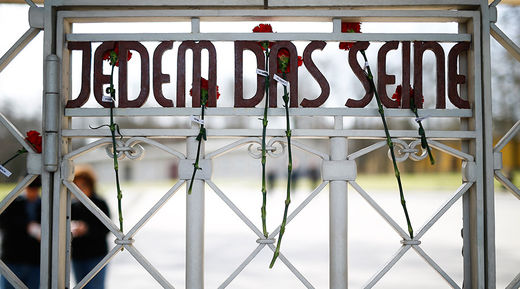 Twenty-one refugees who fled to Europe are
being housed in the barracks of the former Nazi concentration camp Buchenwald
- the infamous place where thousands were brutally murdered during the Second World War, media reported.
The building is reportedly
equipped with basic cooking facilities and bunk beds
.
"
It is an emergency solution, but it is unavoidable
," the mayor of Berlin's Mitte district, Christian Hanke, told
The Daily Mail
. "There is a lot of room in the hangars."
20-year-old Abdurahman Massa from northern Eritrea told
The Daily Express
that he doesn't mind what the building was before.
"This is good for me," he added.
Another refugee identified as Diaoyre, from Algeria, said he'd been living in the building for one week, and
it's "good," adding "many others don't even have this."
The refugees are provided with 135 euros monthly, to spend on food and other essentials.
The news that refugees would be housed in the notorious Nazi death camp
first emerged in January
. The town's authorities were saying at the time they had 200 asylum seekers while there were no funds to purchase temporary structures to place them. The council spokeswoman called the solution to move 21 refugees into the former camp's command "a practical one."
Despite the original camp buildings having been long destroyed, the decision still came under fire.
In particular,
Der Spiegel
newspaper quoted Birgit Naujoks, head of the refugee council in North Rhine-Westphalia state, calling the plan "alarming and disconcerting —
at the very least insensitive
."
About 250,000 people were held in Buchenwald in from 1937 until 1945, with prisoners regularly tortured: the camp was infamous for the terrifying medical experiments on people. For instance, SS medics tried to "cure" homosexuality with hormonal transplants, tested their typhoid and cholera on the inmates.
At least 55,000 people are recorded as having died in the camp.