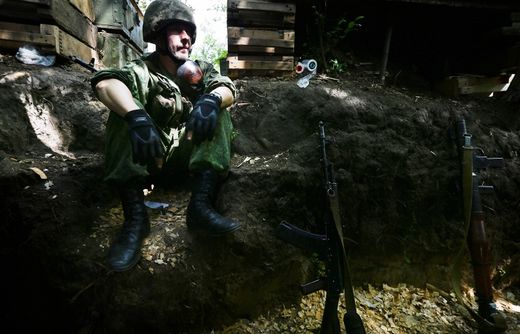 Russia's President Vladimir Putin says Donbass future should be decided not by Russia.
"Our souls and hearts are with Donbass," he told reporters. However, he said, "this serious matter is not decided by Russia".
Russia's President is sure there is no alternative to the Minsk agreements.
"The most important is that there should be established a direct contact 'between the Kiev authorities and the authorities in Donetsk and Lugansk' in order to implement the Minsk agreements."
He said those agreements "read both the changes to the constitution, and the elections should be done with approval from Donbass."
"However, it [approval] is not organized," Putin said, stressing the importance of amnesty and "at last to implement the law adopted by Rada [on changes to the Ukrainian constitution regarding de-centralisation]."
The president pointed to the economic aspects of Minsk2.
"Coal from Donbass is being supplied now, and this means we also may begin supplies."
"I believe, we shall settle the issues regarding gas supplies, too," Putin added.
Minsk accords on settlement of crisis in Ukraine
A peace deal struck on February 12 in Minsk, Belarus, by the leaders of Russia, Ukraine, Germany and France envisaged a ceasefire between Ukrainian forces and people's militias starting from February 15, followed by withdrawal of heavy weapons from the line of military engagement and prisoner release.
The package of measures envisages the pullback of all heavy weapons by both parties to locations equidistant from the disengagement line in order to create a security zone at least 50 kilometres wide for artillery systems with a calibre of 100 mm or more, a zone of security 70 kilometres wide for multiple rocket launchers and a zone 140 kilometres wide for multiple rocket launchers Tornado-S, Uragan and Smerch and for Tochka-U tactical rocket systems.
The Ukrainian forces and the self-defence forces of the self-proclaimed Donetsk and Luhansk republics (DPR and LPR) have repeatedly accused each other of violating ceasefire and other points of the Minsk agreements.
According to the United Nations Office for the Coordination of Humanitarian Affairs (OCHA), the violence in Ukraine has killed 6,500 people in the past year, wounded 16,000 and left 5 million people in need of humanitarian aid. With more than 1.3 million registered IDPs, Ukraine has now the ninth largest number of internally displaced in the world, according to the Internal Displacement Monitoring Centre.