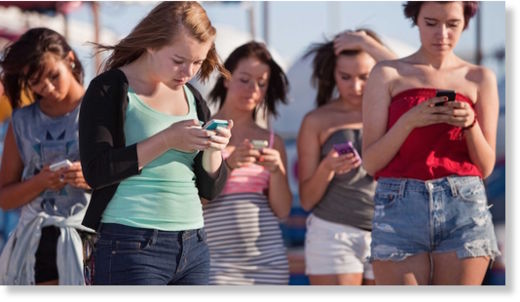 Comment:
When one thinks about the
abysmal state of ignorance
of the average American and the complete lack of interest in anything happening outside of their own lives, it's not surprising to see the state that the world is in. We have been given handheld distraction machines to keep us from paying attention to reality, to keep us in a virtual world, and the vast majority of the world is more than happy to remain distracted. Considering how much global mobile use is increasing, it certainly looks as though people are turning more and more to blocking out reality via their cellphones than ever before.
Smartphone and tablet users just can't get enough of their mobile devices. Some do nearly everything with phone in hand.
U.S. consumers spend, on average, three hours and 40 minutes each day on their mobile devices, an increase of 35% from a year ago in the second quarter of 2014. And that time spent on mobile devices continues to increase, said Simon Khalaf, senior vice president of publishing products at Yahoo.
Globally there are 280 million "mobile addicts," who use apps more than 60 times daily. Effectively, "these folks are conducting their lives on mobile," Khalaf said. Regular users access apps up to 16 times daily,
Flurry's research found
.
Over the last six months, the average time consumers spend on their phones or devices has increased by 43 minutes, or 24%, he said. "This is the mobile revolution," Khalaf said. "There hasn't been a single industry that hasn't been disrupted by mobile and its applications."
Khalaf revealed the findings Wednesday at Yahoo's mobile developer conference in New York. The new data, also posted on the
Yahoo Developer Tumblr page
, came from mobile analytics company
Flurry
, which he was CEO of when Yahoo acquired Flurry in July 2014, and other sources including
comScore
and
NetMarketShare
. Flurry tracks 720,000 apps across two billion mobile devices.
Time spent in apps dominated user activity, accounting for 90% of mobile device time, compared to 10% spent on mobile web browsers. Social, messaging and entertainment apps such as YouTube accounted for more than half of time (51%) spent on mobile.
Time spent consuming media more than doubled from a year ago, up 108%, to 96 minutes daily. And global consumer spending on in-app purchases rose from $21 billion in 2014 to $33 billion this year. "In mobile industry, content is king again," Khalaf said. "What is even more phenomenal is that people are paying for content."
Read the rest of the article
here
.