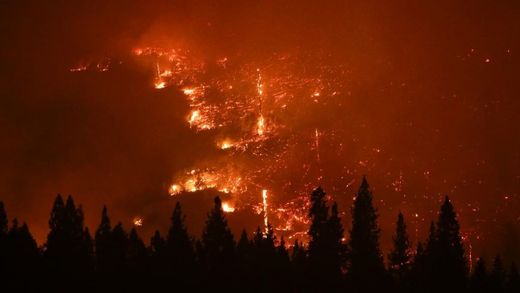 The "
State of the Climate
," released annually by the National Oceanic and Atmospheric Administration, found that 2014 was a record year for extreme weather: the "warmest year across global land and ocean surfaces since records began in 1880." In other words, it was the hottest year ever recorded on Earth. This year is shaping up to be no different, as 2015 has seen record-breaking heat, cold, precipitation, and drought. Here's a running list of this year's frightening new milestones.
January
Globally, January was the second
warmest
on record, and the sea ice cover in the Arctic was at its third smallest.
February
Boston
endured
64.8 inches of snow, the snowiest month in the city's history. The last of the snow didn't melt
until July
.
March
New York and Vermont
experienced
record cold temperatures for the first three months of the year, beating records set almost a century ago.
April
California snowpack shrunk to
record
low levels, as a result of drought and warmer winter temperatures.
South Dakota
had
its driest January to April ever, reaching a mere 42 percent of its average precipitation for early spring.
May
Alaska had its
warmest May on record
.
Florida
had
its hottest March to May ever.
Tropical Storm Ana, when it made landfall in South Carolina,
became
the second-earliest tropical cyclone to hit the U.S. in recorded history.
Oklahoma and Texas
had
their wettest month of any month on record, with widespread flooding across the region.
June
Illinois, Indiana, and Ohio
had
their wettest June on record.
Pakistan
suffered
its deadliest heat wave ever, with the death toll topping 1,100. The heat index peaked at 121 degrees.
California, Idaho, Oregon, Utah, and Washington all had their
hottest June ever
.
So did
the Earth
.
In fact, the first six months combined were the
hottest ever
. Combined with the last six months of 2014, it was the hottest 12-year stretch in 136 years of record-keeping.
July
A heat wave
brought
record temperatures across Europe, as Germany hit an all-time high of 104.5 degrees.
Due to Tropical Storm Dolores, California
received
more rain over a single weekend than it did during the entire month of January, usually the state's rainiest month.