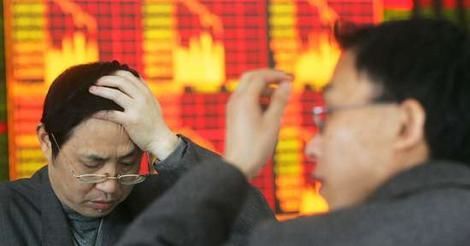 Rising up from the center of Beijing, not far from the Temple of Heaven, is the loudest voice in the wild east of the Chinese stock market.
It's neither a bank nor a brokerage -- it's the headquarters of Xinhua News Agency, long considered the "throat and tongue" of the Chinese government.
With the heady exuberance over Chinese stocks starting to fade, sowing fears of worse to come, investors are scouring state media for clues to the Communist Party's thinking.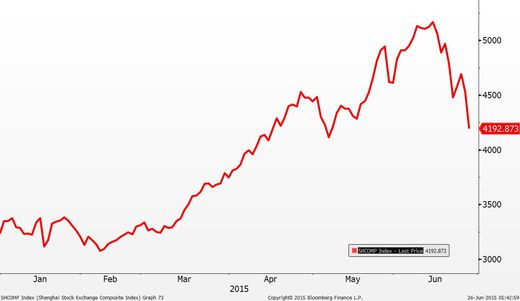 Only months ago, encouraging words from Xinhua sent stocks soaring. Now, with markets sinking, that official line has gone quiet, leaving many wondering how -- or whether -- Beijing might respond.
Just how much China's state media are used to telegraph government views on the markets is the subject of debate. Xinhua, founded in 1931 as the Red China News Agency, didn't answer calls to its news hotline seeking comment.
But analysts agree that Xinhua, a ministry-level government department, is too powerful to ignore. If nothing else, reports and commentary by state media sway investor psychology and can turn a rout into a rally -- or vice versa.
"Investing in China stocks means you have to follow state media," said Nelson Yan, the chief investment officer at the Hong Kong unit of Changjiang Securities Co. Government policy, after all, has been largely behind the world-beating 124 percent market gain of the past 12 months.
Quick Response
The recent quiet has prompted speculation that Chinese authorities are willing to tolerate greater market volatility. On Tuesday, for instance, the Shanghai Composite Index fell as much as 4.8 percent before more than wiping out its losses in the biggest same-day recovery in eight years.
Not long ago, Xinhua and others leapt into action when the market swooned. In January and again in May, Xinhua responded to steep declines within hours. Its reassuring takeaway: the record rally was alive and well. In both instances, the Shanghai index rebounded more than 7 percent within a week.
Given that history, many looked to the state media after the index plunged 6.4 percent last Friday. So far, Xinhua has provided no take on what that decline might mean. The Shanghai Composite sank another 7.4 percent on Friday to the lowest level in seven weeks.
Xinhua isn't the only state source that matters. The government and the Communist Party also run newspapers with varying degrees of influence. Some of those outlets have weighed in following the recent selloff.
Margin Debt
In a front-page commentary on Tuesday, the China Securities Journal said the nation's "liquidity bull market" was "taking a break." Future gains would be "slow" and driven by government efforts to reform state-owned companies, the paper said, echoing an earlier article by the state-run Securities Times.
The takeaway is that authorities are trying to discourage speculative bets on the highest-flying stocks, Yan said. Instead, the government wants to steer money toward state-run companies, which tend to trade at lower valuations.
The message appears to be sinking in. Margin debt, a favorite tool of speculators, has dropped for four straight days on the Shanghai Stock Exchange. Technology shares, which almost doubled this year, lagged behind the broader market this week. Government-run utilities, meanwhile, posted some of the biggest gains.
Psychological Impact
Granted, not everyone thinks the state media are a fundamental force in the markets.
"It's more a psychological impact than a real impact," said Wu Kan, a fund manager at Dragon Life Insurance Co. in Shanghai, which oversees about $3.3 billion.
Still, psychology matters. Yao Lina, an accountant in Shanghai, is looking for clues in the state media before deciding whether to get back into stocks. She sold everything last week.
"The tone from the state media is particularly helpful to retail investors like me, as I have a job to do and am pretty busy," said Yao, 35. "China's stock market is really different from other countries. The government surely has some measures to control the movement."