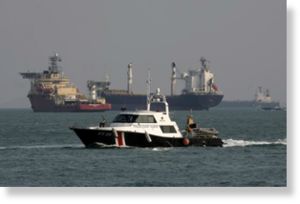 Malaysia's Maritime Enforcement Agency (MMEA) believes the missing tanker
MT Orkim Harmony
is in Indonesian waters now, after more than three days of fruitless searching.
MMEA's Vice-Admiral Maritime Datuk Ahmad Puzi Ab Kahar said today that its charts showed that the vessel carrying RM21 million worth of RON 95 petrol would eventually reach Vietnam if it kept heading north.
The ship disappeared off radar off Johor's Tanjung Sedili four days ago while heading east for Kuantan port, he said, adding that it would have reached Sabah's capital Kota Kinabalu by this afternoon if it kept its course.
"But until now, we have not been able to track the ship in the Sarawak and Sabah waters, so most likely it is still at the South China Sea and surrounding areas.
"From our analysis that we made, the biggest possibility is that it is at the Nantuna and Anambas islands area," the MMEA deputy director general in charge of operations told the media at the agency's headquarters, referring to the Indonesian group of islands that lay in between Johor and Borneo.
He said Malaysia has contacted Indonesian authorities to aid in the search in that area and is also seeking clearance to enter Indonesian waters to continue the search.
Ahmad Puzi said the Malaysian search team from MMEA and the Royal Malaysian Navy had scoured the waters stretching from Johor to Kelantan, as well as waters around Sabah and Sarawak with 14 assets but still could not locate the missing tanker.
He also said today that the ship carried enough diesel to last a voyage of 22 days.
Malaysia is seeking the use of US and Australia's aircraft and had contacted all neighbouring Asean countries including Indonesia, Singapore, Vietnam and Thailand for aid.
The tanker MT Orkim Harmony had departed from Malacca and was bound for the Kuantan port when communication was lost last Thursday at 8.50pm.
Ahmad Puzi said today that MMEA was notified about 10 hours later at 6.30am the next day, where it immediately commenced the search for the ship that was scheduled to arrive at the Kuantan port at 10.30 am.
Ahmad Puzi confirmed that this was likely a case of maritime robbery - the fourth recorded by Malaysian authorities in the South China Sea waters this year, stating that it was believed to be motivated by economic reasons.
He also confirmed that no ransom demands had been issued for the 22 crew members aged between 20 and 62.
The multinational crew is headed by a Malaysian captain and comprises of 15 other Malaysians, five Indonesians and one from Myanmar.
The 5,879 metric tonnes of RON 95 petrol cargo is owned by national oil giant Petronas, he said.
Just a week ago from Orkim Harmony's disappearance, Malaysian oil tanker
Orkim Victory
was hijacked on June 4 and had some of its oil cargo stolen before it resurfaced the same day with all 18 crewmembers unharmed.
MMEA was reported saying by
The Star
that the pirates had fled to Pulau Matek in Indonesia's Anambas islands.