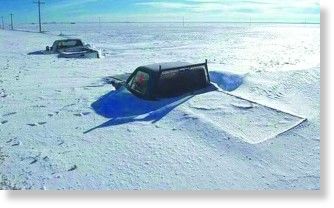 Heavy snowfall and blizzard left 98 people lost, 140 cars and more households covered in snow, and numerous livestock dead nationwide last week.
A total of 98 people were reported missing
in Arkhangai, Dundgovi, Uvurkhangai, Tuv, Uvs and Bulgan Provinces. From them, 96 were found safe while one was found dead and one is still missing.
Dundgovi Province Police reported that the last missing person to be found is a 50-year-old herder of Erdenedalai soum, who was reported missing during a blizzard while herding. He was found far from his home in another soum, Luus.
The herder said he found a winter quarter of another herder and took shelter until the blizzard died.
Tsenkhermandal soum of Khentii Province is still scouring to find the last missing person, who is reportedly a 55-year-old man from Baganuur District and went missing in the soum when he was driving during the blizzard.
A team of 27 rescuers are searching for the man, with four vehicles. The man's car was found in Tsenhermandal soum on Saturday.
A 26-year-old man who was reported missing after leaving home on Sunday in Ulziit soum, Uvurkhangai Province was found dead after the blizzard. A rescue team found his body below an accumulated snow after searching for him on the following day.
Many roads in provinces and near Ulaanbaatar have been blocked by snow, leaving around 140 vehicles with 750 people stuck on the road
. The vehicles managed to arrive at their destination without the help of the National Emergency Management Agency rescue teams and neighborhood residents.
A group of five members of the Mongolian Land Cruiser Club voluntarily headed from Ulaanbaatar to Arkhangai road close to the city and rescued people in 11 cars.
One of the rescued was D.Mainbayar, director of Motort Khulgiin Master LLC.
He reported that the passengers in the stuck cars were close to freezing when the rescuers arrived.
Traffic between provinces and Ulaanbaatar were halted temporarily from 10:00 a.m. Sunday to 07:30 a.m. Monday to prevent traffic accidents and blocked cars.
The blizzard cut power in four soums in Bulgan Province.
Uvs Province had the worst time during the blizzard according to province heads.
D.Ulziit, acting chief of Uvs Province Emergency Management Agency, reported, "Two working groups are giving logs and hay to herders blocked in snow, while another group is clearing accumulated snow from roads to open up traffic. Several livestock died in our province, but we haven't set the number yet."
Road cleaning works are lagging behind in Uvs Province and the acting chief explained, "We don't have enough workers for snow clearing, and the snow amount is very high.
Accumulated snow reached one meter in height in the areas affected by the blizzard, while average snow height in the province is 30 centimeters now."
A total of 91 households have been blocked by snow since Friday in mountainous regions of Uvs Province.
"Two snow plows are working to make a drive path to reach those households in three soums. It is impossible to drive trucks to them. Livestock of the blocked households are in a very dangerous condition as they haven't grazed for five days," added D.Ulziit.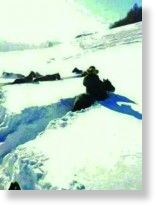 Condition in Ulaanbaatar
The traffic accident rate has risen three folds since the heavy snow fall on Friday and Saturday in Ulaanbaatar, reported the General Traffic Police Department.
Central roads have seen three to nine-car collisions near the Mongolian National Broadcaster, in 3rd micro-district and in 13th micro-district. No major injuries related to the collisions were reported.
Public servants are still clearing ice and snow from roads and sidewalks.