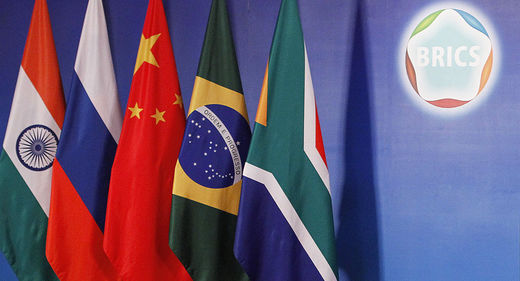 Russia accepted on Wednesday the chairmanship for the BRICS group of major emerging national economies, from Brazil.
During the one-year chairmanship, a series of events will be held, including the July 2015 BRICS seventh summit in Russia's southern city of Ufa on July 8-9.
The
official website
dedicated to Russia's chairmanship in BRICS has been launched on Wednesday. The address of President Vladimir Putin on Russia's chairmanship has already been released on the website.
Diego Pautasso, Professor of International Relations at the University Universidade Vale do Rio Doce and at the higher school of Advertising and Marketing in the Brazilian state of Rio Grande do Sul, believes that
Russia's chairmanship in BRICS will help the organization to develop an alternative to US hegemony.
"Russia's chairmanship in BRICS clearly shows exactly what is the essence of this association. That is a political and diplomatic initiative aimed at countering certain challenges from the American hegemony in the international arena," Diego Pautasso told
Sputnik
.
Earlier in the month, President of the Russian Chamber of Commerce Sergey Katyrin, who became BRICS Business Council head April 1, told RIA Novosti, that Russia would focus on the launch of the BRICS New Development Bank (NDB) as its chairmanship priority.
The agreement on the creation of the NDB was signed on July 15, 2014, in Fortaleza, Brazil.
The bank's aim is to support infrastructure projects and embrace sustainable development in the BRICS and other countries with developing economies. The NDB, with a stated capital of $100 billion, is expected to become one of the most important institutions of its kind in the world.
The lower chamber of the Russian parliament, the State Duma, ratified the agreement on establishment of the NDB on February 20.
The BRICS group of prominent emerging economies was established in 2010, when South Africa joined Brazil, Russia, India and China in what was previously known as BRIC.
The BRICS countries make up about 40 percent of the world's population and command a combined economy of about $16 trillion.