A couple is charged with a crime that Lakeland Assistant Police Chief Mike Link said is one of the worst he's seen in his 30-year police career.
The shocking developments were announced Tuesday at a press conference in Lakeland, where detectives said the duo is charged with murder in the death of an infant child.
The 22-day-old baby, Betsey Kee Stephens, was found dead in the couple's custody after detectives say she starved to death.
Ruby, 23, and Roy Stephens, 48, told police they had just arrived in town from Indiana and checked into their motel when they discovered something was wrong.
They said baby Betsey's feet were cold, so they covered them with a blanket and then got into the car to go to dinner.
After arriving at the Golden Corral restaurant on U.S. Highway 98, they said they noticed Betsey was unresponsive, so they called 911.
The investigation has since revealed that Betsey had been dead for more than three hours before anyone called emergency officials.
Comment:
They planned to fill their stomachs with food while their child died of starvation. These creatures are not human, but they are also not animals, because no animal mother would deny her child food. Read
the following article
to understand the nature of these monsters.
Police Tuesday said pictures from the scene are unsettling.
"When I saw the photographs...it shook me to my core because in thirty years, I have never seen anything like that,"
said Assistant Police Chief Mike Link.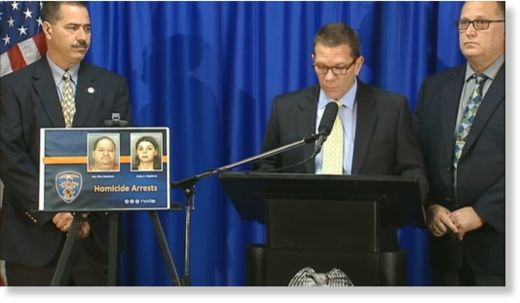 According to the medical examiner, Betsey weighed little more than four pounds, about half of what she should have weighed.
Both Ruby and Roy, who police said is not the biological father, claim to have fed the baby several times over the trip down from Indiana. The medical examiner, however, says that is not possible. There was very little food found in her body.
"It's very apparent -- it would be very apparent to anyone who saw the photographs -- that this did not occur overnight or in days," said Asst. Chief Link.
"In my opinion this child suffered from day one of birth, to the time that she passed away."
The baby's death has been ruled a homicide, and both have been charged with first-degree murder.
Betsey had two siblings, a 1-year-old brother and a 2-year-old sister, in the car at the time of the incident. The Lakeland Police Department says they are now with the Department of Children and Families.
"They failed miserably to take care of this child.
She suffered tremendously over the 22 days she was alive to meet this kind of demise,"
Link said.