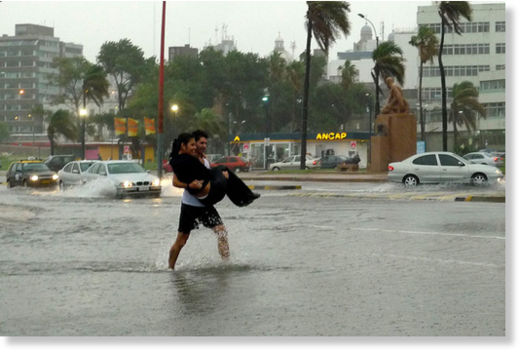 Montevideo suffers its worst flooding in more than 50 years
.
Several days of torrential rain has led to widespread flooding across Uruguay. Among the worst hit is the capital city, Montevideo,
much of which has been left under water.
Thousands of homes and businesses have been damaged in the process.
This has been described as the worst flooding in almost a century.
Friday saw an incredible amount of rainfall with
63mm of rain falling in around half an hour. The average rainfall for the entire month of December is 78mm.
The deluge left vehicles floating across the inundated streets. Meanwhile, trees were downed by the strong and gusty winds.

Power outages also affected much of the country.
Montevideo's Emergency Committee received over 100 calls for help in less than an hour.
The Director for Environmental Development, Juan Canessa noted that 'we're 23mm short of 2014 becoming the year with the most rain in the last 100 years.'
The rains have eased but that total may well be surpassed before the year ends. The Uruguayan Meteorological Institute has issued warnings for the entire country because further showers are expected over the next few days.