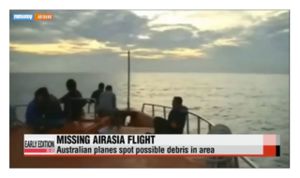 A rambling post two weeks ago to a Chinese forum predicting the downing of an AirAsia flight that was previously ignored has now come back into focus after Flight QZ8501 disappeared Sunday over the Java Sea.
The
warning
claimed a shadow organization referred to in Chinese as an "international black hand" was responsible for attacks on two Malaysian Airlines flights earlier this year and that an attack on AirAsia was imminent.
The post to
Tianya
, a Chinese version of Reddit, came two weeks ago and predicted dire consequences for anyone flying AirAsia.
"Black hand has hijacked and shot down MH370 and MH17," wrote the poster, according to a translation posted on
Reddit
. "Now the black hand are targeting AirAsia to ruin this airline cause it too belong to Malaysia."
Malaysian Airlines
Flight MH370
disappeared earlier this year, possibly over the Indian Ocean. It has yet to be found.
Flight MH17
was shot down over eastern Ukraine only weeks later and crashed into a large field.
"Given how powerful the black hand are I suggest that all Chinese thinking about traveling to avoid AirAsia, so that you don't disappear like those on MH370," wrote the mysterious poster, who goes by the name "landlord".
"You could be happily vacationing, working, or studying abroad, but if you go on Malaysian airline or AirAsia, you're dead, be careful everyone," landlord insisted, urging people to warn family and friends against flying either airline.
People immediately dismissed the claims, calling landlord a "conspiracy nut" and questioning the validity of his claims.
"All you civilians get away (from the airline)," landlord argued. "You can still hide, all those that see the post can still save themselves.
"Once everything cools down, then it would be safe to travel to Malaysia," he continues, repeating warnings to hide from AirAsia and Malaysian Airlines flights.
"Life is precious and your safety is important," landlord added.
AirAsia Flight QZ8501 went down Sunday morning in stormy weather over the Java Sea, about halfway through the flight from Indonesia to Singapore.
There were 162 people onboard when it disappeared. Officials believe it may be at the bottom of the sea near Belitung Island.
Landlord's real identity is not known. Almost 700,000 people have read the posts, according to
MailOnline
.
Some of them believe he is a Chinese intelligence official. Others feel he may have gone back and edited the original post to reflect AirAsia.
Landlord's account has not made a new post to Tianya since December 17.
The search for Flight QZ8501 remains ongoing. Authorities do not believe a terrorist attack was the cause of the Airbus A320-200's disappearance.