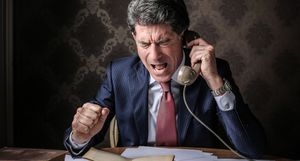 An angry father has been banned from a Maryland high school's campus after he made vague but ominous threats against the school because his daughter's history homework mentioned the Islamic faith.
BayNet.com reported
that La Plata High School in Charles County, Maryland has issued a No Trespass order after parent Kevin Wood - a former U.S. Marine - called the school and threatened to disrupt classes if his daughter's world history class continued to study the religion and its impact on human history.
Wood reportedly telephoned Vice Principal Shannon Morris last thursday enraged over a homework assignment which dealt with the formation of Middle Eastern empires centuries ago. History teacher Katie O'Malley Simpson said that the history curriculum has never been considered controversial in the past.
"The assignment has been given for years," O'Malley-Simpson said.
La Plata High School Principal Evelyn Arnold issued a "No Trespass" order against Wood after hearing about the contentious call, in which Wood promised to come to the school and disrupt classes if Islam was mentioned any further.
O'Malley-Simpson called the decision to ban Wood from campus "unusual," saying, "We don't file no trespassing charges lightly. We would only do that when we feel someone has threatened the safety of staff and students."
According to Maryland Gazette.net
, O'Malley-Simpson said, "We have a lot of students, and safety comes first. We don't allow disruptions at the schools, especially if we're forewarned of them."
Charles County School District Superintendent Kimberly Hill met with Wood and his wife to discuss their concerns on Monday. The couple reportedly asked the school to excuse their daughter from world history class for the duration of the segment studying Islam.
After the meeting, Wood
told reporters
that his daughter, a junior at La Plata High, should not be forced to study a faith that she "does not believe in."
Morris told the Woods that an alternate curriculum could be created for their daughter, and that any assignments she refused to complete would be given a failing grade.
"I told her straight up 'you could take that Muslim-loving piece of paper and shove it up your white [expletive]," Wood
said
on Monday. "If [students] can't practice Christianity in school, they should not be allowed to practice Islam in school."
Wood told Superintendent Morris that the school is violating his daughter's "constitutional rights" and threatened to "bring down a shit-storm on them like they've never seen."
Melissa Wood, however, assured reporters that her husband wasn't really threatening the school and that officials are twisting his words and overreacting.
"Nowhere did he ever threaten," she
insisted
. "And this is where it's gotten totally blown out of proportion."
O'Malley-Simpson said that some classes may offer an alternate assignment for students whose parents complain over subject matter, but not world history.
"It's part of the curriculum," she said, "and it's part of the standards you're supposed to learn."
"This is a world history class," she
explained
. "We are not teaching religion. Part of those world history studies involves the economics of a region and part of that is the religion which relates to the economy of that part of the world. In the Middle East, Islam is the only religion and it contributes greatly to the economics of the region."
"Religion is a big part of world history," she said.
Charles County Board of Education member Jennifer Abell posted a statement on Facebook explaining that some people are spreading "misinformation" about the No Trespass order.
"The particular unit in question at La Plata High School is on the formation of Middle Eastern empires in which students learned the basic concepts of the Islamic faith and how it, along with politics, culture, economics and geography, contributed to the development of the Middle East," Abell wrote.
She went on, "There is also misinformation about why the school issued a No Trespass Order on a parent. This parent threatened to cause problems that would potentially disrupt La Plata High School this morning. To ensure the safety of students and staff at the school, the school administration placed a No Trespass Order on this parent."