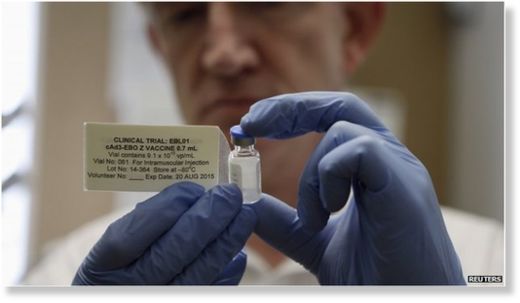 Millions of doses of an experimental Ebola vaccine will be produced by the end of 2015, the World Health Organization has announced. It said "several hundred thousand" would be produced in the first half of the year.
And vaccines could be offered to health workers on the frontline in West Africa as soon as December 2014. However, the WHO cautioned that vaccines would not be a "magic bullet" for ending the outbreak. There is no proven cure or vaccine for Ebola.
In response to the largest epidemic of the disease in history, the WHO is accelerating the process of vaccine development.
It normally takes years to produce and test a vaccine
, but drug manufacturers are now working on a scale of weeks.
More Ebola cases
The government in Mali has confirmed the first case of Ebola in the country. A two-year-old girl tested positive for the virus after returned from neighbouring Guinea. Meanwhile a doctor in New York, who has also returned from Guinea, is in hospital with the virus. Dr Craig Spencer came down with a fever on Thursday, days after his return, officials say.
Correct dose
Two experimental vaccines, produced by GlaxoSmithKline (GSK) and the Public Health Agency of Canada, are already in safety trials. The GSK vaccine is being tested in Mali, the UK and the US. Research on the Canadian vaccine is also under way in the US with further trials expected to start in Europe and Africa soon.
The results are expected in December. After that, trials will move to countries affected by Ebola, probably starting with Liberia. That will allow researchers to assess how effective the vaccine is and what dose is needed to provide protection.
Read the rest of the article
here