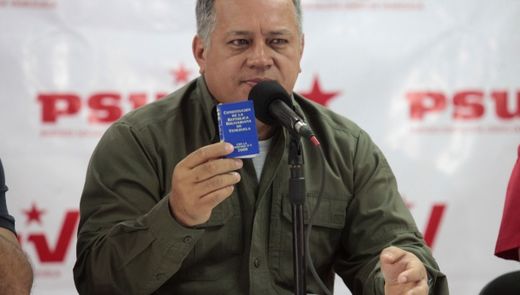 President of the Venezuelan National Assembly Diosdado Cabello accuses USAID of funding opposition groups.
The president of the Venezuelan National Assembly Diosdado Cabello called Friday on intelligence agencies to investigate Non-Governmental Organizations (NGOs) in the country that are funded by the United States Agency for International Development (USAID).
Cabello's call comes on the heels of the arrival of a representative of the U.S. government in Venezuela to meet with representatives of NGOs at the U.S. Embassy in Caracas.
According to their website, USAID's mission is "
furthering America's interests
, while improving lives in the developing world."
In practice, much of the work of USAID has been to support the activities of groups that are opposed to democratically elected governments
. Cabello pointed to an NGO that has links to "Operation Liberty", the group lead by Lorent Saleh, who is currently in custody on accusations of intent to commit terrorist acts in Venezuela.
Cabello has previously warned of the attempts by the U.S. and its allies to interfere in the internal affairs of Venezuela, saying, "This is one way for imperialism to finance conspiracy [against the government]."
Bolivia expelled USAID
and its representatives from that country in 2013 due to their support of opposition groups opposed to the government of Evo Morales.