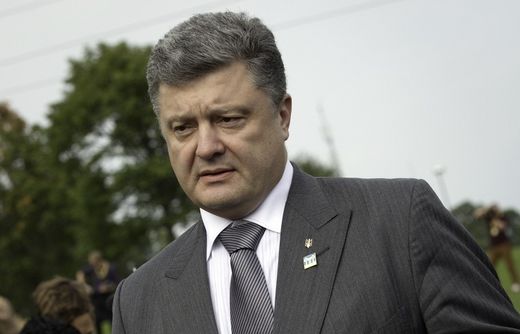 A bill on a special status of a number of territories in the Donetsk and Luhansk regions envisages that
local administrations might take over power from the center
to an extent to which it was done in Poland, President Petro Poroshenko said at an annual meeting of Yalta European Strategy in Kiev Friday.
The Ukrainian president played down concern, expressed by someone in Ukraine over a bill on a special status of a number of territories in the Donetsk and Luhansk regions, saying
"it poses no threat to Ukraine's sovereignty and territorial integrity"
; the power will be turned over from the center to regions on approximately the same scale as it was done to local bodies of power in Poland, he explained.
Local governments will be entitled to settle language problems and control expenditures of local budgets, but the principle problems of foreign and home politics will remain in the competence of the central authorities
, Poroshenko said.
It is important to hold
early local election
in the Donetsk and Luhansk regions to have officials to represent the population of these territories, the Ukrainian president said.
He expressed hope that the Ukrainian parliament would approve the bill. Commenting on the expected bill on amnesty, the Ukrainian president said
it would apply to people who committed no violent crimes
.

Comment: So what, is Poroshenko planning on charging every member of the NAF, whose actions would no doubt be considered violent crimes by Kiev? As if that will go over well.


Law on a separate status of certain districts in the Donetsk and Lugansk regions is expected to contain a provision on
the possibility of voluntary co-financing of those territories by the Russian and Ukrainian governments
, Yuri Lutsenko, an aide to President Petro Poroshenko said Friday.
He said the bill that would be submitted to parliament next week proposed a special humanitarian status for territories, "which means it will reaffirm guarantees for the Russian language, as well as the right to elect deputies of city halls and district councils and to enjoy a special economic regime that could be compared to a free economic zone - a case where all the monies it earns remain at home."
"Also, the budget of the zone will be replenished by monies from Moscow and Kiev - the local authorities will be supposed to pay their own money for everything if they enjoy a special status but this will be the money they earn themselves," Lutsenko said. "Also, there'll be the money provided by Kiev and Moscow voluntarily."
Along with this, he failed to answer a question about who those regions would pay taxes to. "That's an open question for the time being," Lutsenko said.