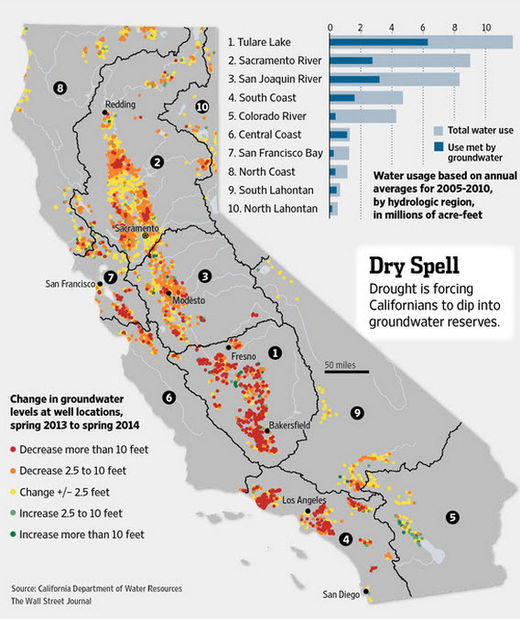 The ongoing disaster that is the drought in the West is
leaving wells dry across California - which account for up to 60% of water usage
. As
WSJ reports
, as groundwater levels plunge (100 feet or more lower than norm), wells are being driven further and further into the earth (500 feet in some cases) forcing the
state legislature is considering regulating underground water for the first time
. "We can't continue to pump groundwater at the rates we are and expect it to continue in the future," warns one engineer, adding "What's scary is
we're not fixing anything... It's a race to the bottom
."
"Everybody was pumping to their heart's content, until they realized the basin isn't that big."
As WSJ reports,
"Groundwater was kind of out of sight, out of mind," said Lester Snow, executive director of the California Water Foundation, a nonprofit policy group in Sacramento, and former director of the state Department of Water Resources. But now...
With groundwater levels falling across the Golden State - causing dried-up wells, sinking roadbeds and crumbling infrastructure - the state legislature is considering regulating underground water for the first time.

Californians have long battled over rights to rivers, lakes and other surface-water supplies, but the drought is finally shifting the focus to groundwater, which accounts for about 40% of water used in normal years - and up to 60% in drought years, as other sources dry up.
Other states were forced to act earlier.
Arizona, for example, began regulating its major groundwater basins in 1980 after experiencing subsidence, or sinking soils from lack of water, and other problems from agriculture pumping, said Michael Lacey, director of the Arizona Department of Water Resources. "Had we done nothing, many of the areas would have no supplies left," Mr. Lacey said.
But in California...
Groundwater remains there for the taking - except in places such as Orange County with special management districts. The Department of Water Resources said earlier this year that groundwater tables in some parts of California have dropped 100 feet or more below historic averages. That has resulted in an estimated $1.3 billion in damage to infrastructure, such as cracked highways due to subsidence, Mr. Snow said.
And so the government is stepping in...
A bill pending in the Legislature would require that groundwater be managed sustainably at major aquifers throughout the state, such as by authorizing local agencies to impose pumping limits and conduct inspections.
Farmers are worried...
"There is no good time for hurried legislation, but during a critical drought year...is absolutely the wrong time," Danny Merkley, director of water resources for the California Farm Bureau Federation, wrote in a recent column for a trade publication.
But the problem is vast...
County Supervisor Frank Mecham said the near-doubling of the county's population to 275,000 since 1980 has put pressure on groundwater, particularly in rural areas where more vineyards also have sprung up.

As a result, many rural homeowners have reported dramatic drops in their well water levels. Sue Luft, for instance, said she and her husband last year had to drill a second well to 540 feet after one 355 feet deep went dry.

"What's scary is we're not fixing anything," said Ms. Luft, 57, a retired environmental engineer who leads a homeowners' group that recently teamed with the vintners to support the water district bill. "It's a race to the bottom."