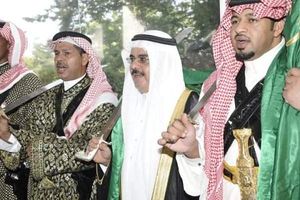 French police are investigating
a possible inside job
after heavily armed men attacked a convoy of cars belonging to a Saudi Arabian prince, and stole cash amounting to 250,000 euros (US$330,000).
The prince, who was not immediately identified, was in a convoy of several vehicles headed to the Le Bourget airport from the Saudi embassy in Paris late Sunday, when it was attacked by men who were described as moving like "commandos."
Armed with
Kalashnikov rifles
and using two vehicles, about eight men targeted a Mercedes mini-van in the convoy at around 9:15 p.m. (1915 GMT), pointing their guns at the driver and forcing him to stop.
The whole convoy stopped by the wayside when the armed men stopped the mini-van.
The men then drove the mini-van with the driver and two passengers inside, leaving the other vehicles behind. French media reported that no shots were fired, and the Saudis were later released a short distance away from the northern ring at Porte de la Chapelle on the edge of the city.
The mini-van was later found incinerated. A French police spokesman said inside the van were roughly 200,000 euros in cash and
some sensitive official documents from the Saudi embassy.
Another police source told the AFP news agency that it was "
quite an unusual attack. They were obviously well-informed.
It's true that it's quite a rare way of operating."
The Brigade de Répression du Banditisme (Banditry Repression Brigade), an elite police unit under the French Ministry of the Interior, is reportedly in charge of the investigation.
The Saudi prince has not been identified.