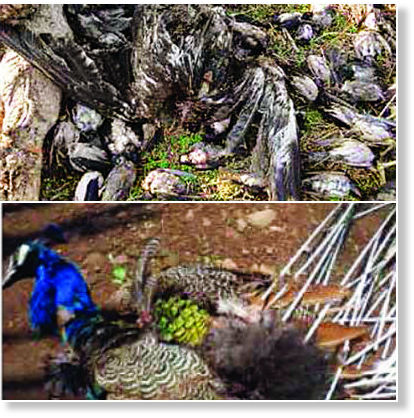 The hailstorm that hit Maharashtra earlier this year
killed more than 65,000 birds and mammals
in various parts of the state, according to a special report prepared by the Bombay Natural History Society.
A total 26 species of birds and nine species of mammals were killed in Marathwada and Vidarbha during the period from March 1 to 10 and on May 1 and 2, BNHS stated in the report that was released on Tuesday.
Mass mortality was reported in 27 areas with high mortality in 14 areas, each covering about 25 sq km.
"A high number of deaths were reported for birds that prefer residing near human habitation. Some of these are mynas, owls, parakeets and kites," the report states.
The highest rate of mass mortality was observed at the roosting sites of birds such as rosy starling, the house sparrow and rose-ringed parakeet. Birds such as coucal, bulbul, drongo, quail, lark, egret and bee-eaters were found dead across the study area.
"We observed carcasses of more than 1,500 rose-ringed parakeets at Mandava village in Risod tehsil of Washim district. These parakeets were roosting on a series of teak trees near a farmland. After the hailstorm their carcasses were lying over an area spread over one hectare," the report states.
Among the other species seriously affected were egrets, cormorants, storks, ibises, doves, quails, grey herons and the barn owl.
More than 3,000 unidentified bird species were also observed at various locations in Osmanabad tehsil, Loha in Nanded district, Jafarabad in Jalna, Jamner in Jalgaon district.
The painted stork and black-headed ibis that are among species under threat listed by the International Union of Conservation of Nature, suffered severely.
Among the mammals affected were the Indian blackbuck, nilgai, jungle cat, chinkara, langur, black-naped hare, five-striped squirrel, flying fox bat and short-nosed fruit bat.