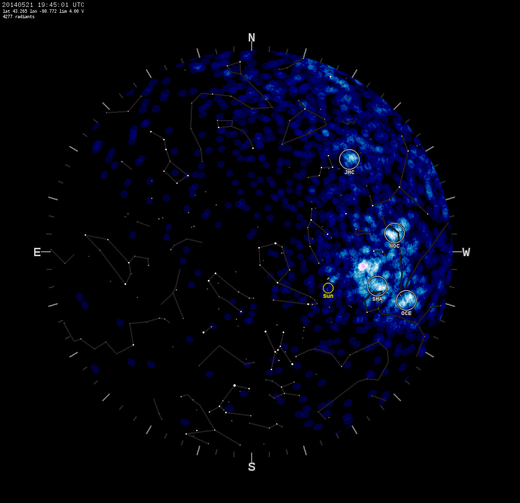 * Maps produced using the space agency's Asgard program which tracks an estimated 4,000-5,000 meteoroids a day
* Every day, more than 40 tonnes of meteoroids hit our planet, with larger chunks of comet debris becoming fireballs
* The blue map tracks their position in the skies over our planet with the main showers highlighted in white circles
* A second radar map looks at meteoroid speed. The red regions indicate a speed of 7.5 miles/s (12km/s), the green from 26 miles/s (42km/s) and the blue from 41 miles/s (66km/s)
Every day, more than 40 tonnes of meteoroids hit our atmosphere.
Many are tiny specks of comet dust that crumble harmlessly in Earth's atmosphere, producing a slow drizzle of meteors in the night sky.
Bigger chunks of asteroid and comet debris create dozens of nightly fireballs around the planet - and now, these real-time maps mean you'll never have to miss one again.
Nasa's meteoroid visualisations are produced using the space agency's Asgard software program which tracks an estimated 4,000-5,000 meteoroids a day.
The blue map follows their position in the sky using the Canadian Meteor Orbit Radar (CMOR). The main showers are highlighted with circles and listed by their International Astronomical Union name.
A second radar map looks at meteoroid speed. The red regions indicate a speed of 7.5 miles/s (12km/s), the green from 26 miles/s (42km/s) and the blue from 41 miles/s (66km/s).
The top left hand corner of the map shows the date and time of the data, which Nasa claims to be near real-time.
The data is constructed using a network of 12 cameras, six of which are placed in north Alabama, north Georgia, southern Tennessee, and southern North Carolina.
A further four are in the northern Ohio/Pennsylvania area, and the remaining two are located in southern New Mexico. The cameras have overlapping fields of view, which means that the same fireball can be detected by more than one camera.
This allows Nasa to calculate the height of the fireball and how fast it is going. They can also work out the orbit of the meteoroid responsible for creating the fireball, which gives clues about whether it came from a comet or an asteroid.
If a camera captures an image of a fireball, it is uploaded to the Asgard site, with images dating back to three weeks.