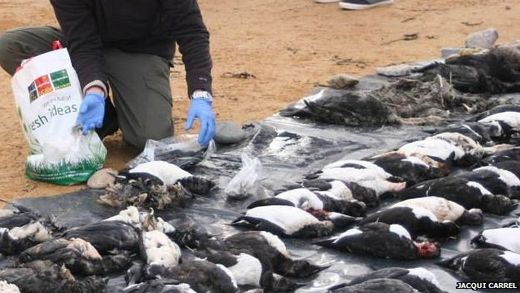 More than 600 dead seabirds have now been found on Jersey's beaches, wildlife experts have confirmed.
The National Trust for Jersey organised a second count on Sunday to track the impact of recent storms.
For the second week about 130 birds were discovered dead. Experts put this down to them struggling for food in heavy wind and rain.
Wildlife experts are calling for the Channel Island governments to work to assess the scale of bird loss.
Dozens of volunteers answered a call to scour the island's coast on Sunday to collect some of the hundreds of dead birds which have washed up during the extreme weather early in February.
Cris Sellares, from the National Trust, said there were a total of 136 birds found and some specimens, such as local shags, an oiled razorbill, a kittiwake and some puffins were saved for post-mortem analysis.
She said:
"It is one storm after another, after another, they can't feed in this weather, they get weak.
"The impact of this storm will be felt across the UK and particularly our local birds like the shags. I think we will need to do a full review of the health of our breeding population this year."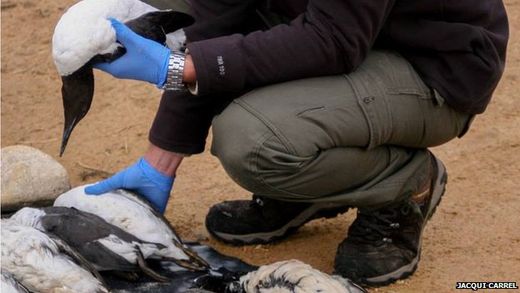 Jacqui Carrell, who volunteered for the count in both weeks, said it was devastating to see so many dead birds, but it was vital they were counted.
She said: "It is so important, the devastation has been appalling. We need to know what is happening to the birds so we can help them when the weather gets better."
In Guernsey more than 80 seabirds were found dead on the beaches during a count on Saturday.
Jamie Hooper, of La Societe Guernesiaise Ornithology Section, said: "Almost all the birds we assessed showed clear signs of starvation. Very few showed any sign of having a level of condition to indicate they could have survived the very poor weather."