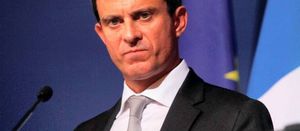 Translated by SOTT.net
Manuel Valls is not releasing the pressure on Dieudonné. As the debate rages about banning the comedian's shows, the president of the republic François Hollande reiterated his vows Tuesday to the religious authorities at the Champs Elysee in a ceremony attended by Manuel Valls in his capacity as Minister of Religious Affairs.
During an 'off-the-record' conversation, the minister disclosed that he had to be "uncompromising" towards Dieudonné, before adding: "And anyway, he is financed by Iran..."
A film produced by an Iranian production company
Dieudonné had reached an agreement with an Iranian production company, Haft Aseman, to finance his film
The Anti-Semite
, released in 2011.
The film tells the story of a woman with cancer who asks her husband to be psychoanalyzed by a Jew in order to cure his anti-Semitism.