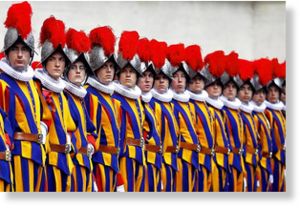 A former member of the Vatican's Swiss Guard has claimed that cardinals prey on young men recruited to the Pope's personal bodyguard.
He said that he had received up to 20 "unambiguous advances" from cardinals, bishops and priests and claimed that he was even asked for sex by a dignitary close to Pope John Paul II. "The Vatican is a paradise for gays," the unnamed former guard said in an interview with a Swiss newspaper.
His story appears to confirm rumours that senior Catholic churchmen, who have vowed to remain celibate, look to the Swiss Guards for sex.
The guardsman, who served under Pope John Paul II, who died in 2005, attacked the hypocrisy of the Church. He said that he once received a late-night telephone call inviting him to a bedroom in the apostolic palace, close to the lodgings of the Pope. "Once, when I was coming home at midnight, I got a phone call from a withheld number," he said. " 'What are you doing? Where are you?' he asked me in Italian, and it turned out that this concerned an important cleric who was lodging at the papal palace."
On another occasion, he said, he was fondled by an employee of the Vatican secretary of state's office. He was also taken out to dinner by a priest. "As I was being served spinach and steak, the priest said 'and you are dessert'," he told the
Schweiz
am Sonntag
newspaper. Some clerics tried to ply him with alcohol. "I once found a bottle of whisky that had been left for me at my post at the entrance of Sant'Anna, along with a visiting card of a bishop," he said.
Others sought to trade jobs for sex. The guard asked one bishop for advice on finding a job in Rome when his contract ran out, and the bishop replied that he was eager to help, provided the guard "first take a shower".
It was made clear to him that accepting propositions could help to advance his career. "Perhaps I would now be the commander of the Swiss Guard if I had taken part," he said. The Swiss Guard, which currently numbers 110 men, was founded in 1506. Recruits, who dress in colourful uniforms and are armed with halberds, must be single Swiss males aged from 19 and 30 and at least 5ft 8½ in tall.
In 1998 its commander, Alois Estermann and his Venezuelan wife, were murdered by a guard named Cédric Tornay, who then killed himself. According to the book
City of Secrets
by John Follain, a journalist with The
Sunday Times
, Tornay and Estermann had a gay affair. Tornay took revenge when Estermann cheated on him with another guard and refused to award him a three-year service medal, the book says. Tornay's family has always rejected that version.
An Italian magazine recently alleged that Monsignor Battista Ricca, who was appointed as the Pope's "eyes and ears" at the Vatican bank, had an affair with a captain in the Swiss army while serving in Uruguay. The Vatican dismissed the claim as a "smear". Pope Francis is the first pontiff to acknowledge the existence of a gay lobby in the Vatican, and has moved clerics linked to the alleged homosexual network.
Urs Breitenmoser, a spokesman for the Swiss Guard, told
Schweiz am Sonntag
that "the rumour of a homosexual network at the heart of the Vatican was not a problem".