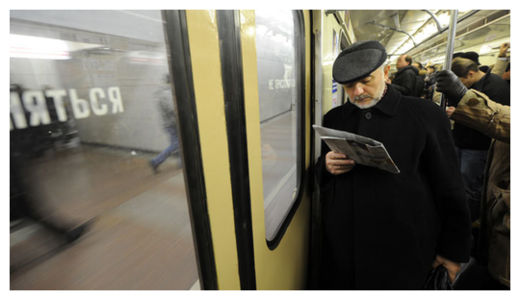 Both print and online Russian media have been informed of the four swear words that must never appear either in articles or in readers' comments. Newspapers and websites which don't comply could lose their license.
The list of unprintable words was compiled by Roskomnadzor (Federal Supervision Agency for Information Technologies and Communications) and include:
"Obscene terms for male genital organs, obscene terms for female genital organs, obscene terms for sexual intercourse and obscene terms for a woman of easy virtue, as well as all of the derivatives from the above mentioned words," a watchdog's document reads, as cited by Izvestiya daily.
All the other explicit words and phrases will be allowed if content they appear in is marked with a 16+ age limit. In the case of TV and radio, users of bad language will only be able to have their say after 9 pm.
Once detected in an article, the unprintable word will result in the media receiving a warning. At least two warnings in 12 months could lead to the watchdog suing the outlet in court, seeking the withdrawal of its license.
Roskomnadzor, currently monitoring 5,000 media outlets in Russia, takes a softer approach to obscenities in readers' opinions posted online. A warning will only be issued if the media does not agree to a request to either edit or delete a comment containing one of the four outlawed words.
The Roskomnadzor list comes as a follow-up to the law banning swear words in mass media. The outlets now have a clearer vision over what exactly they may lose their license for.
The Rosbalt news agency has already been punished by Roskomnadzor. It did not remove links to YouTube videos, featuring people using strong language that the watchdog had issued warnings against. The Moscow city court stripped Rosbalt of its license in October.
Swear words were used 1133 times in Russian mass media during a two-year- period from July 2011 to July 2013, according to a report by the Mediologiya polling agency. That's three words a day on average.
The online Snob project was mentioned in the report as one of the major contributors to the statistic. The project's president, Nikolay Uskov, says the website removes swear words once notified by a supervising agency. However, he questions the regulation, saying it's too hard to control content coming from readers, arguing swear words can be justified in direct speech.
"When we speak about editorial content, then of course we should follow the commonly acceptable norms of literary language... But when we reproduce reality, namely people's conversations - when we quote people - I don't know what we should do," Uskov told Kommersant FM radio.
The journalist community has hardly welcomed the regulation as many believe it gives too much power to Roskomnadzor, making any online outlet that receives comments from readers an easy target for persecution.