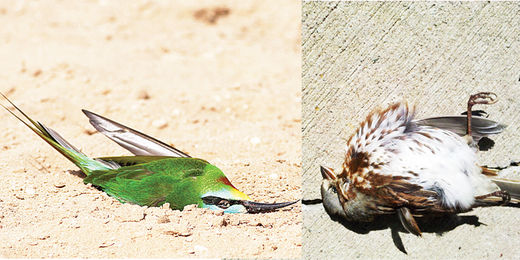 Bird lovers in the country are in a shock after hearing reports about increasing number of birds either lying dead or injured on roads, pavements and in parks. They complain that the authorities concerned did not take adequate steps despite
seeing a legion of dead birds in many areas
including Manama and Adliya. However, t
he reasons behind mass deaths are unknown.
Speaking to DT News, Bahrain Animal Lovers Society Founder Huda Muhammed urged the residents not to ignore injured birds on roads as timely treatment could save their lives. "I have seen dead birds many times in Adliya near Fuddruckers. The reasons for their death are many. But, mostly it happens out of accidents with birds hitting the windshields of the car," she pointed out.
"Generally, in Bahrain, people don't care for injured birds. I think we need to be more compassionate towards this poor living creatures," she added. Echoing a similar view, Sam Viegas, another bird lover said, "Birds lying dead on roads is a horrific scene to watch. People concerned should investigate the reasons and put an end to this."