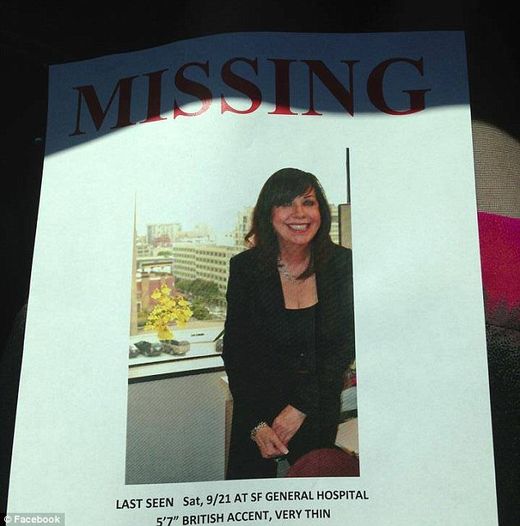 British patient Lynne Spalding found dead in stairwell of US hospital 17 days after going missing
The Independent
, UK - 10 October 2013
A British woman has been found dead in the stairwell of a US hospital where she went missing as a patient more than two weeks ago.

Lynne Spalding, 57, was being treated for an infection at San Francisco General Hospital after she arrived in a thin and frail condition on 19 September.

Her body was only found 17 days later, after a member of the hospital's engineering staff ran a routine check on a rarely-used external stairwell.

Officials say they are now investigating how Ms Spalding got out to the stairs unnoticed, with the door she used normally alarmed and locked from the outside. [...]

Ms Spalding was first reported missing from her room two days after she arrived for treatment. Just before she disappeared she was described as being in a fair and improving condition, although appearing disorientated, the BBC reported at the time.
San Francisco Police Department seeks man who gave tip about Lynne Spalding
ABC News - 30 October 2013
There's a new twist in San Francisco General Hospital's missing patient case. Now police need to find the person who reportedly first found her in the stairwell. The hospital, the police and the victim's family are hoping this mystery man will come forward in the investigation into the death of Lynne Spalding. The man is described as an Asian man in his 30s.

The stairwell where Spalding's body was found is a locked one -- you can only exit on the bottom floor and leave the building. But on the morning of October 4, a man was knocking on that emergency stairwell door trying to get out onto a hospital floor. A nurse heard the knocking.

"She let him in on the fifth floor and said 'what are you doing here? This is an emergency stairwell.' He said 'oh wrong stairwell, thanks for letting me in' -- it was that sort of exchange that took place. Then he said 'by the way, it looks like there's someone further down on the stairwell maybe asleep, not sure, but there is someone down there,'" said San Francisco General Hospital spokeswoman Rachel Kagan. [...]

"She said 'OK thank you' and called the sheriff's deputies to check that out. That was exactly the protocol, she did exactly what she was supposed to do at that time," said Kagan.

The man then walked away and police have spent the last few weeks looking at employee badges, trying to find the man. [...]

Spalding's body was discovered in that stairwell three days after the man reported seeing someone.
Stairwell death case: coroner blames British woman's alcoholism
Associated Press - 14 December 2013
According to the coroner's report Spalding had been confused and delirious that day. She did not know the day, time or why she was in hospital.

Her remains were not found until 8 October when a maintenance worker walked down the stairwell during his quarterly inspection.

Four days earlier a hospital staff member had reported to police seeing a body in a locked stairwell of the building where Spalding had been a patient. A sheriff's dispatcher told hospital officials the department would respond but "there is no indication that any one was dispatched to that stairwell", the sheriff's department has admitted. [...]

Spalding's death was an accident, the coroner's report said. The cause was listed as "probable electrolyte imbalance with delirium" due to "complications of chronic ethanolism".

David Perry, a family spokesman who knew Spalding for six years, said he had been pressing for the report's release for weeks. He denied that Spalding ever had an alcohol problem. "Lynne was certainly not an alcoholic nor was she in any programme that I was aware of," he said.

According to the report Spalding's body was clad in street clothes when it was discovered - including a black and white jacket, a black top, black pants and a pair of black boots. There were no signs of injury.

An exact time of death was not determined [...]

A hospital spokeswoman said the witness who reported seeing Spalding's body in the stairwell 4 October was a University of California San Francisco researcher. She was interviewed by authorities but the substance of that interview has not been made public.