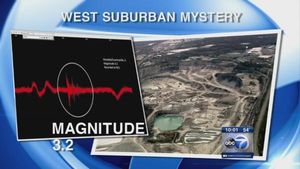 People in the western suburbs who felt the earth move Monday weren't imagining it. But the cause remains a mystery.
The U.S. Geological Survey assigned the tremor that occurred about 12:35 p.m. near Countryside a preliminary magnitude of 3.7. Soon after, they downgraded the tremor to 3.2 and said it wasn't an earthquake, but likely was caused by work at a nearby quarry.
"Based on what they've looked at, we're pretty sure it's from a blast," said Paul Caruso, a geophysicist with the Survey. "It is not an earthquake."
The website Did You Feel It?, which is operated by the agency, reported that by midafternoon more than 700 people had contacted the site to say they had, indeed, felt it. Police departments in Hinsdale, Elmhurst and elsewhere said residents called to report the tremor.
Harley Benz, a scientist with the Survey, said his agency looks at the seismic waves that travel through the earth and other factors to decide whether an incident is an earthquake or a human-made event.
An earthquake occurs much deeper beneath the earth's surface than Monday's event, he said.
"This is one that's relatively shallow," he said. "It's far more indicative of human industrial activity."
Benz said the Survey always makes the initial assumption that an event is an earthquake until its analysis shows them otherwise.
Survey officials also look at how close the event is to an area that has mining, quarrying or other industrial operations. It cannot pinpoint the source of Monday's tremor but said it occurred within 2 miles of McCook.
Joshua Robbins of Vulcan Materials said his company, at 5500 Joliet Road in McCook, was not responsible.
"Vulcan Materials did not blast today," Robbins said Monday.
A spokeswoman for nearby Hanson Material Service, 9101 W. 47th Street in McCook, declined to say if her company did any blasting Monday.
"I actually can't comment on that at this point," said the woman, who would identify herself only as Jennifer.
McCook police did not immediately return a call for comment.