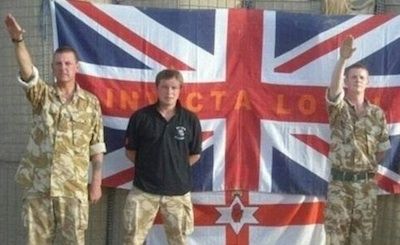 The men dressed in camouflage fatigues have their right arms raised in a traditional fascist manner. They are standing in front of a British Union Jack featuring the words "Invicta Loyal", the name of an English Rangers supporters' club, and the so-called 'Northern Ireland flag'.
The photograph was defended in the press with suggestions the soldiers may be making a 'Red Hand of Ulster salute'. Displays of fascism by Rangers fans have previous been explained away in such terms, but the gesture is unknown in Ireland.
The mythical 'Red Hand of Ulster salute' is understood to be have been invented for damage limitation purposes only.
The identities of the soldiers and their regiments have not been made public. It is believed the photograph was taken in Afghanistan.
The British Ministry of Defence (MoD) said the matter had been 'dealt with' when the photograph first appeared on the internet three years ago. However, they refused to say what disciplinary action, if any, was taken against the men.
Ulster Unionist leader Mike Nesbitt said the image was "abhorrent and so is the thinking behind it".
Even DUP hardliner Sammy Wilson said the gesture "cannot be explained away as some type of Red Hand of Ulster salute."
Alban Maginness of the nationalist SDLP said it was very disturbing that serving [British] soldiers would use an overtly Nazi salute.
"That's very disturbing given that Nazism and fascism were evils that the British army were supposed to have defeated," he said.
"What is perhaps more disturbing is the offhand way in which the British army seem to have dealt with this particular incident.
"One would have expected a more robust action from the British Army having identified the troops from the photograph."