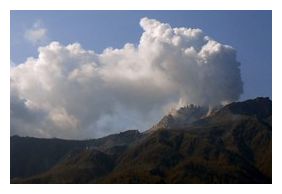 Jakarta - Indonesian authorities have been warning local villagers in East Nusa Tenggara Province about increasing volcanic activities in the area in recent days.
"The people around the areas should continue to practice caution" despite there not having been fresh volcanic activity on Wednesday, said Sutopo Purwo Nugroho, the spokesman of the National Disaster Mitigation Agency.
The agency reported on Tuesday two volcanoes in the East Nusa Tenggara Province have shown "increasing activities." The volcanoes are subsea Mount Hobalt and and Mount Ili Werung.
It noted Mount Hobalt erupted Tuesday morning, spewing cloud as high as 6,560 feet above the sea level for around two minutes.
"Visually, the water near the volcano turned yellow and bubbly," the agency said.
Meanwhile, Mount Ili Werung, located on the southern part of Lembata Island, started rumbling just before dusk Tuesday for about an hour and a half.
But the agency said, at least so far, it isn't necessary for the villagers to evacuate their villages.
Six people were killed in the small Palue Island in the province when Mount Rokatenda erupted on Aug. 10, spewing hot ash and smoke up to 6,560 feet into the air. Nearly 3,000 people were evacuated from the area in the island since it first rumbled in October 2012.
East Nusa Tenggara is about 1,297 miles east of Indonesia's capital city of Jakarta. Just west to the province is West Nusa Tenggara Province, famous for the Mount Tambora, whose eruption in April 1815 is cited as the largest volcanic eruption in the world in recorded history. The precise death toll from the eruption remains unclear, but it is believed to be at least 71,000.
The eruption caused a "volcanic winter," a reduction in temperature cause by volcanic ash and droplets of sulfuric acid. It made 1816 known as the year without summer due to the effects of the weather in North America and Europe.