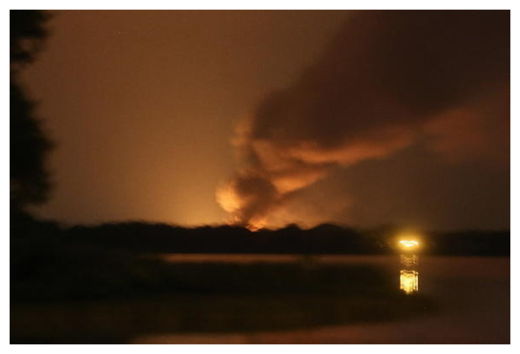 A large series of explosions has rocked a gas plant in Lake County, causing multiple deaths and injuries and forcing the evacuations of residents at least a mile away, authorities said.
A night shift crew was working, and many people are thought to have been killed, said Lt. John Herrell, a
Lake County Sheriff's Office
spokesman.
"There's going to be a lot," Herrell said.
The explosions began a little before 11 p.m. at Blue Rhino, a propane-tank business at 300 C.R. Road 448, and lasted for more than half an hour. All the explosions happened inside the plant, blowing the roof off, Lake County Sheriff Gary Borders said.
"I heard a loud bomb sounds," said Lisa Garner, 43, who lives in Lakeside, a Tavares subdivision near county roads 461 and 448. "I thought somebody ran into my house."
Three helicopters landed at LakeTech Institute of Public Safety and are loading patients. At least six ambulances can be seen. The Lake County Medical Examiner also has been notified.
The Lake County Medical Examiner also has been notified.
Residents described sounds similar to a shotgun or fireworks and saw bursts of light and a bright orange glow above the treetops, they said. Some reported a "giant fireball" in the sky and the sounds of the Fourth of July.
The sight of flames was reported more than five miles away. The vibrations could be felt as far away as Mount Dora.
Scores of people are lining Lake Dora on Lakeshore Drive and gathering in a park in downtown Tavares to watch.
C.R. 448 is closed for three or four miles east of the plant.
Blue Rhino relocated to Tavares about seven years ago, according to an April 2006 article in the Orlando Sentinel. Its headquarters is in North Carolina.
Please check back for updates on this breaking-news story.