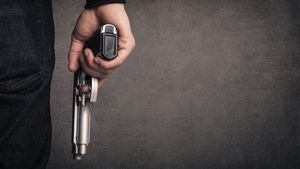 A jury in Bexar County, Texas
just acquitted Ezekiel Gilbert of charges
that he murdered a 23-year-old Craigslist escort - agreeing that because he was attempting to retrieve the $150 he'd paid to Lenora Ivie Frago, who wouldn't have sex with him, his actions were justified.
Gilbert had admitted to shooting Frago in the neck on Christmas Eve 2009, when she accepted $150 from Gilbert and left his home without having sex with him. Frago, who was paralyzed by the shooting, died several months later.
Gilbert's defense argued that the shooting wasn't meant to kill, and that Gilbert's actions were justified, because he believed that sex was included as part of the fee. Texas law
allows people
"to use deadly force to recover property during a nighttime theft."
The 30-year-old hugged his defense attorneys after the "not guilty" verdict was read by the judge. If convicted, he could have faced life in prison. He thanked God, his lawyers, and the jury for being able to "see what wasn't the truth."