Results from dead swans could take two weeks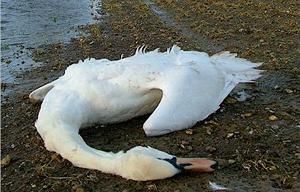 It could take up to two weeks to identify the cause of death of 32 swans found at New Lake, Dunganaghy.
The swans were sent to the Department of Agriculture's Regional Veterinary Laboratory in Sligo for analysis.
A spokesperson for the Department of Agriculture, Food and the Marine told Donegal Now that the samples had only arrived on Tuesday. He said it was still too early to say what had caused the multiple deaths.
"It will probably take about 10 to 14 days to really understand what happened to them," he said.
Meanwhile members of the public are advised not to touch any dead birds they come across.