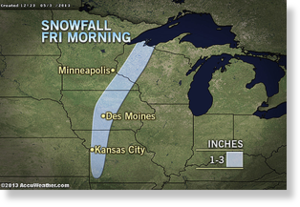 The list of locations that have received record May snowfall from a storm that brought up to 2 feet of over the central Rockies continues to grow over portions of the Plains and Upper Midwest.
The storm will continue to drop accumulating snow through Friday morning and reaching even more unlikely locations over the Plains, Midwest and the South before it is all said and done.
Omaha, Neb., Mason City, Iowa, and Rochester, Minn., are but only several cities that have been clobbered by their biggest May snowfall on record. In many cases in the major cities in the Plains, those records date back to the 1800s.
While snow is not unheard of away from the Rockies and northern tier states during May, it is the amount of snow and the extent of that snow that is so unusual. Snowstorms during May in the Midwest are typically highly localized.
Minneapolis/St. Paul managed to avoid the heaviest snow from this storm. However, areas less than 50 miles to the southeast of the Twin Cities received between 6 and 12 inches of snow Wednesday night into Thursday. As much as 18 inches fell on part of southeastern Minnesota and northwestern Wisconsin.
The Omaha, Neb., area picked up between 3 and 6 inches of snow. A general swath of 3 to 10 inches of snow has fallen over much of western Iowa.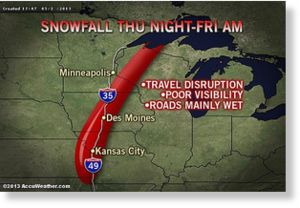 Des Moines, Iowa, and Kansas City, Mo., will take a turn at accumulating snow through early Friday.
In some cases the snow fell on locations that were in the 80s only a couple of days earlier, including Denver and Amarillo, Texas. Cold air was driving southward in the wake of the storm and threatens to bring yet another freeze to part of the southern winter wheat belt.
The bulk of the snowfall accumulations were occurring during the night time and early morning hours. During the daylight, much of the snow was melting as it was falling.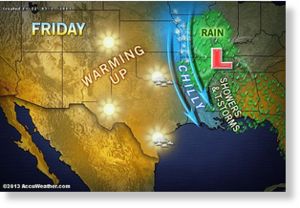 As the storm continues to spin slowly to the east there is even a chance of wet snowflakes being seen as far south as the Ozark Mountains in Missouri and Arkansas before the week ends. Some folks northern Alabama, northern Mississippi and the southern Appalachians may spy snowflakes by early next week.
Snow is not forecast to reach Chicago and St. Louis, but flooding rain is possible in parts of these metro areas.
Prior to any snowflakes in the Deep South, the storm will cause an area of rain to enhance part of the Mississippi Valley into the weekend. Small streams and tributaries to Old Man River may experience another round of flooding.
Downpours could put a damper on activities in Louisville for Derby Day. There is a chance of muddy track conditions if downpours manage to swing through right before the Kentucky Derby.
May Plains Snowstorms: A Historical Perspective
There have been some snowstorms in May in the region, but they are rare. 1907 sticks out as a benchmark year for a number of locations. However, multiple years during the mid-1940s also brought snow events to the region for several years in a row.
According to National Weather Service records for May, until this storm in 2013, there has never been more than 2.0 inches of snow in Omaha, Neb. On May 9, 1945, 2.0 inches of snow fell. There have been two snowfalls on May 3 over the years in Omaha. One was 1.3 inches in 1907 and another was 1.0 inch in 1967.
The heaviest May snowfall on record for Des Moines, Iowa, was during 1907, when 1.2 inches fell on the third day of the month. There has been measurable (0.1 of an inch or more) snow as late at May 15, which was set the same year.
About 100 miles north of Des Moines, along I-35, in Mason City, Iowa, there has been 4 inches of snow as late as May 28 in the year 1947. That storm continued into the next day and brought a grand total of 4.5 inches.
Meanwhile, the Minneapolis-St. Paul area has received measurable snow as late as May 15, during 1907. On May 11, 1946, a storm brought 2.8 inches of snow. On May 1, 1935, 3.0 inches of snow fell on the area.
In Kansas City, Mo., the 1907 storm brought 1.7 inches of snow on May 3.
Records for the area date back into the late 1800s.
In Eau Claire, Wis., records only date back to 1949. The only measurable snowfall during May since then was 0.7 of an inch on the ninth day of the month in 1960.