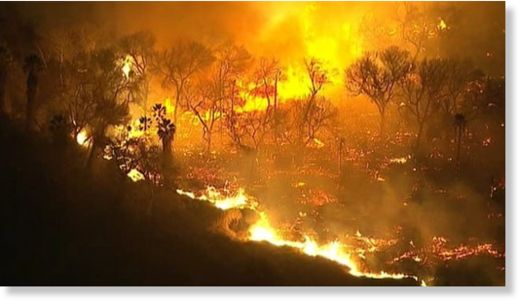 Riverside, California - Firefighters stopped the spread of a 311-acre wildfire in the heavily vegetated Santa Ana River bottom Friday, despite gusty Santa Ana winds and extremely dry conditions amid a late-winter heat spell.
Firefighters continued to work on hotspots, and a firefighting helicopter was on standby, said Greg Birchfield, a spokesman for the California Department of Forestry and Fire Protection in Riverside County.
Containment was estimated at 60 percent. Firefighters expect to have the fire fully contained by 8 p.m. Saturday. Afternoon conditions included northeast winds at 10-15 mph with gusts to 20-25 mph with temperatures in the low 80s and relative humidity at just 5 percent.
No injuries were reported, Birchfield said.
At its peak, the fire downed power lines and burned near a residential area, prompting a call for voluntary evacuations. That order was lifted and electricity was restored by Friday morning, county fire officials said.
On Thursday, a backyard trailer went up in flames about a quarter-mile from the fire lines in a neighborhood where embers were flying, but fire officials couldn't immediately say whether the wildfire embers sparked it.
Southern California's Santa Ana winds are most often associated with fall but can occur through winter. They are created when air moving clockwise around an area of surface high pressure in the interior of the West flows down through passes and canyons in the region's mountains, gaining speed and warmth as they blow from a northeasterly direction toward the Pacific Ocean.
Numerous Southern California points saw Friday high temperatures in the 80s and Fullerton, in Orange County, hit 90.
The National Weather Service said the surface high pressure over the Great Basin was expected to slowly weaken through early Saturday.
Source: The Associated Press