Blizzard conditions slammed parts of the central Plains Monday, forcing the closure of highways in the Texas and Oklahoma Panhandles and sending public works crews scrambling for salt and sand anew just days after a massive storm blanketed the region with snow.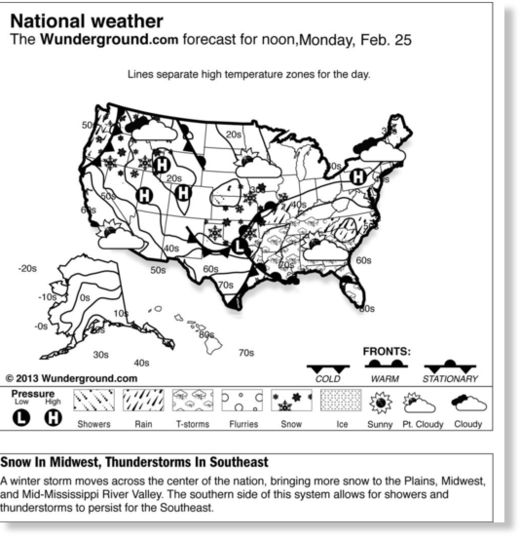 National Weather Service officials in Kansas and Oklahoma issued blizzard warnings and watches through late Monday as the storm packing snow and high winds tracked eastward across West Texas toward Oklahoma, Kansas and Missouri. Forecasters also warned of possible tornadoes further southeast.
Snow covered Amarillo, Texas, where forecasters said up to 18 inches could fall, accompanied by wind gusts up to 65 mph. Paul Braun, a spokesman for the Texas Department of Transport, said whiteout conditions and drifting snow had made all roads in the Texas Panhandle impassable. Interstate 40 was closed from Amarillo to the Oklahoma state line.
"It's just a good day to stay home," Braun said.
"
This is one of the worst ones we've had for a while," he said. "And we kind of know snow up here
."
The weather service issued a blizzard warning for the Oklahoma Panhandle and counties along the Kansas border, warning that travel in the area would be "very dangerous" until Tuesday morning with near zero visibility and drifting snow.
The Oklahoma Highway Patrol closed all highways in the Panhandle, citing slick roads and limited visibility. Trooper Betsy Randolph said the patrol advised its non-essential personnel to stay home until Wednesday.
Forecasters said up to 16 inches of snow could accumulate in some areas, with wind gusts reaching up to 55 mph.
About a dozen flights were canceled at Will Rogers World Airport in Oklahoma City. The Chicago Department of Aviation reported normal operations at Midway and O'Hare - the bellwether air hub of the Midwest.
Matt Lehenbauer, emergency management director for Woodward County, Okla., told The Associated Press he was expecting whiteout conditions and that although there was plenty of salt and sand on hand to clear roads, delays were still likely.
"We may not get the roads cleared until midday Tuesday if we get the expected amount of snow and wind. As it's falling, in the blizzard-like conditions, we just won't be able to keep up," Lehenbauer said late Sunday.
The weather service warned of similar high winds and upward of a foot of snow across south-central Kansas. Kansas Gov. Sam Brownback amended a state of emergency declaration to include the new weather.
"This storm has the potential to be more dangerous than last week's storm," Brownback said late Sunday. The storm late last week dumped more than a foot of snow in some places, closing airports and leading to several deadly traffic accidents.
Brownback urged motorists to "stay off the road unless it's absolutely critical," adding that drivers who must travel should pack charged cellphones and emergency kits containing food, water, blankets, road flares and shovels.
"It would have been nice if we'd had a few days to recover, to do some equipment rehab," Joe Pajor, deputy director of public works in Wichita, Kan., told The Wichita Eagle. The city saw its second-highest snowfall Thursday with 14.2 inches.
The southern Kansas town of Zenda saw 18 inches of snow last week, while 17 inches fell in Hays, Kan., about 13 inches in northeast Missouri and 12 inches in parts of Kansas City.
Pajor warned that sand and salt supplies were low after last week's storm and that the city's strategy might just be to plow snow into the center of arterial streets and cut traffic to one lane in each direction. He said the city wouldn't begin to use its limited sand and salt supply until the snow stopped falling and plowing was under way.
Steve Corfidi, meteorologist with the National Weather Service's Storm Prediction Center in Norman, Okla., said the storm also will affect southern states and could spawn tornadoes Tuesday in Louisiana, Mississippi, Alabama, the Florida Panhandle and Georgia.
By Monday morning, several inches of snow had fallen on much of West Texas and the Texas Panhandle, where forecasters predicted more than a foot could fall. The incoming storm sent Amarillo residents running out for last-minute supplies. Mario Delgado, 57, needed milk.
"I got all the good stuff like soup and peanut butter the other day," Delgado told the
Amarillo Globe-News
. "We're used to it here."
He added: "As long as you got plenty of clothes and the right kind of shoes, you'll be alright."
Source: The Associated Press