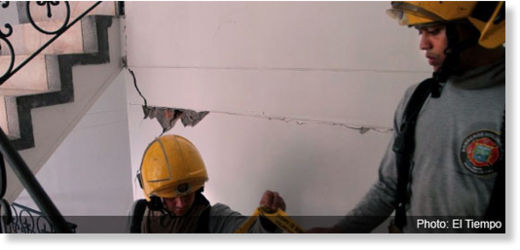 Contrary to a statement by President
Juan Manuel Santos
, eight people have been injured and more than a 100 houses have been damaged in an M7.0 earthquake that hit
Colombia
Saturday morning.
According to the country's disaster management unit, six people were injured in the El Charco municipality in Nariño, the department where the earthquake took place.
Additionally, the unit's director, Carlos Marquez, said that 143 houses were damaged.
The damages were reported as far as cities as
Bogota
, more than 500 miles from the earthquake's epicenter, where some buildings were left without windows or cracks appeared in walls.
Shortly before the official report on injuries and damages, Santos claimed there had been no injuries and the material damage was "marginal."
The earthquake was felt in neighboring countries like Ecuador and Peru.
The strong earthquake is the second in the region in half a year; in September last year, a M7.3 earthquake shook the city of Popayan.