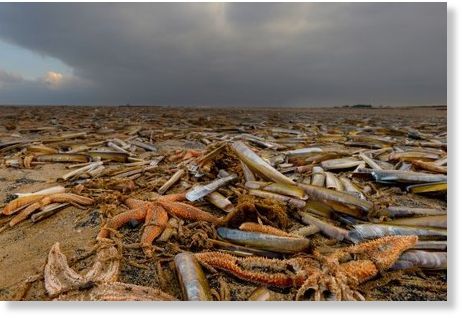 Thousands of starfish have been washed up on the beach following the recent bad weather.
About 4,000 of them laid strewn for miles at the Humberston Fitties yesterday, turning the beach into a marine life graveyard.
It is thought they were swept onto the sands following storms out in the North Sea and the sub-zero temperatures.
Rachael Shaw, of the Lincolnshire Wildlife Trust, said: "It's possible that bad weather or storms out at sea, perhaps associated with high tides, have caused the mass stranding of these starfish."
Keith Breakell, 77, of Grimsby Road, Cleethorpes, regularly walks his chocolate Labrador, Robbie, along the beach.
He said: "We come here often and I have never seen anything like it. It is a very sorry sight."
Waltham man, Graham Kennedy, 60, who was out for a walk with his dog, Molly, said: "I was quite surprised to see them. They are fairly big, too. Molly tried to eat one!"
These starfish are common starfish or asterias rubens and live in large numbers in the North Sea. The majority of the ones stranded have perished, and seagulls have started to feed on them, but those that landed in shallow pools of water will have survived.
Starfish invaded the Fitties in April last year and in 2010, and were dotted about in the Brighton Slipway area of Cleethorpes beach.
Cleethorpes' Beach Safety team was alerted to their presence, but they do not pose a threat to the public.
A spokesperson for the team joked: "The only way they are dangerous is if they are eaten."
North East Lincolnshire Council said the phenomenon was not uncommon.
Jason Longhurst, head of development, said: "It's not unusual to have dead starfish wash up on the beach and there have been instances when it has happened with greater numbers than this event."