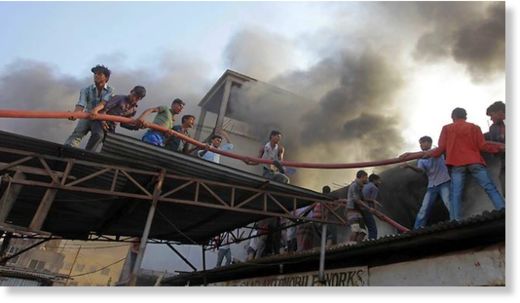 At least six female workers were killed after a blaze swept through a small garment factory in the Bangladeshi capital Dhaka, police and fire officials said.
The latest fire comes two months after the country's deadliest garment factory blaze that killed 111 workers and put the spotlight on the industry's appalling safety and labour issues.
Fire officials said the workers, who were paid as little as $35 a month at the plant in Dhaka's Mohammadpur suburb, which employed some 300 people, died during a stampede and from suffocation after the fire broke out during a lunch break.
"We have the dead bodies of six workers in two hospitals. Most died in a stampede as they rushed to escape the fire," said Bangladesh fire brigade operations director Mahbubur Rahman.
Firefighters brought the inferno under control in about two hours and found no bodies on the charred factory floor, he said, adding that an investigation was underway to determine the cause of the fire.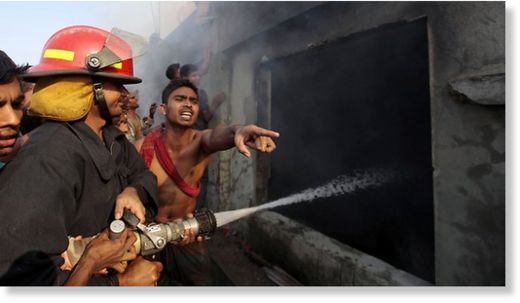 Mr Rahman also said the casualty toll was less than if the fire occurred at a busier time of day because many workers had left the plant for lunch.
Local police chief Azizul Haq said the fatalities were all female workers and some had been overcome by suffocation as smoke engulfed the plant, triggering panic among the employees.
At least five other workers were critically injured, he added.
Fire is a common problem in the 4500 garment factories in Bangladesh, the world's second largest apparel maker, with many operations based in badly constructed buildings with substandard electric wiring.
Around 700 people have been killed in garment factory fires in the country since 2006.
The Tazreen Fashion plant where 111 people died in the fire in November was making clothes for a variety of international brands including US giant Walmart, Dutch retailer C&A and ENYCE, a label owned by US rapper Sean "Diddy" Combs.
An official investigation blamed sabotage as the cause of the disaster.
The garment industry is the mainstay of the impoverished country's economy, accounting for up to 80 per cent of Bangladesh's $US24.3 billion ($23 billion) annual export last year.
Retailers have openly criticised the Bangladeshi factories for not ensuring worker safety, but major brands continue to place orders, with some reportedly raising purchases since the Tazreen fire due to cheap manufacturing costs.