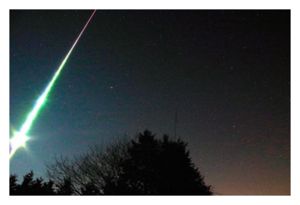 A shooting star accompanied by a loud boom was observed before dawn Jan. 20 across broad areas of the Kanto region, igniting intense interest on the Internet with the posting of video footage and eyewitness accounts.
Fumiaki Goto, 28, an office worker in Tokigawa, Saitama Prefecture, captured footage of the fireball by chance while taking photos of the night sky just after 2:40 a.m.
The plume was enhanced suddenly after its color turned to bluish white from light green and fell toward Ibaraki Prefecture, finally with a reddish hue, said Goto.
The fireball was likely a meteorite, experts said. Video footage taken from a car had more than 200,000 hits.
Chikara Shimoda of the Japan Fireball Network, a group of amateur astronomers, said the fireball disappeared at an altitude of about 30 kilometers.
"It may have burnt up, or perhaps it hit the sea," said Shimoda, 55.