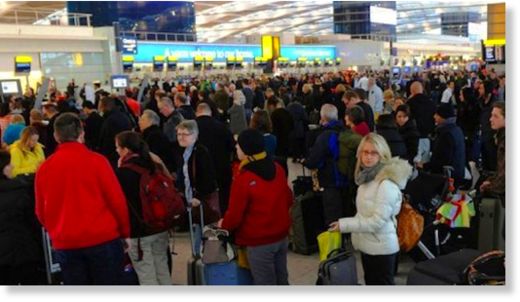 Extreme winter weather swept across western Europe Saturday, leaving thousands of passengers stranded at London's main international airport and claiming several lives in Spain, Portugal and France, including those of three Mali-bound soldiers.
The frigid temperatures also caused delays and cancellations on major railway lines including the Eurostar train service, and transport authorities warned of further traffic disruptions with more blizzards forecast for Sunday.
In London, thousands of passengers were forced to camp out on the floors of Heathrow Airport overnight as hundreds of flights to and from the British capital were cancelled.
"There are lots of bodies lying around in the airport. If feels like there's been a natural disaster," Jerry Meng from Los Angeles, whose flight to New York was cancelled, told British broadcaster BBC.
London's other main airports, Gatwick and Stansted, managed to operate fairly normally Saturday.
For Sunday, the snow is expected to cause a 20-percent traffic reduction at Heathrow, and French air traffic authorities have ordered a 40 percent cut in take-offs and landings at Paris' Charles De Gaulle and Orly airports.
The snow and ice covering large parts of France led to several fatal car crashes, one of which killed three French soldiers about to join comrades fighting in Mali, authorities said.
The troops were travelling in an army car with their military packs and weapons when their vehicle crashed in an accident involving two trucks and two cars.
In total, six people were killed on French roads Saturday, and the nation's weather services have forecast more snow across the northern and southeastern parts of the country over the weekend.
The cold spell also led to power outages, particularly in Northern Ireland where at least 900 homes were without electricity Saturday.
In southern Europe, the fierce weather claimed several lives, killing two men in Spain as a the force of the winds whipping the country's south-eastern coast caused a wall to collapse on them in the city of Cartagena.
Spain's National rail operator ADIF said wind damage forced delays to high-speed trains linking Madrid with the major cities of Seville and Valencia.
The country's interior ministry issued an alert for the weekend, warning of snow and rain storms nationwide with winds up to 100 kilometres per hour (62 mph) and rough seas in the Mediterranean.
In Portugal, an elderly man was killed after strong winds hurled him into a door in the central municipality of Abrantes, leaving him with deadly head injuries. Two teenagers were hospitalised after a chimney collapsed in Agualva, in the Lisbon suburbs.
The Portugese meteorological institute has issued the highest weather alert for six of its 18 districts. According to rescue services, some 3,900 weather-related incidents were reported in Portugal between Friday morning and noon Saturday.
Some welcomed the icy spell.
In Russia, thousands of Orthodox devotees braved the cold weather and plunged into holes cut into frozen rivers and ponds to celebrate the annual holiday of the Epiphany.