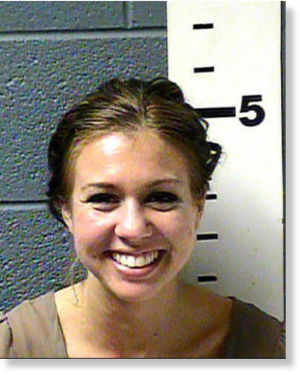 On Sunday Sarah J. Richardson channeled all her beauty pageant training into a radiant mug shot.
Hours before, the reigning Miss Las Cruces, New Mexico, crowned just last month, had been arrested and charged with drunk driving after allegedly smashing her PT Cruiser into a light pole and knocking it over - a domino effect that resulted in a major area power outage.
As ABC News
reports
, nearly 1,700 customers were plunged into darkness for several hours that not even a 1,000-watt smile could repair.
Nearby hotels were forced to give thousands of dollars in refunds to angry customers and some have yet to repair all the electrical issues caused by the crash.
To make matters worse, hotels were packed with visitors in town for New Mexico State University's commencement ceremony.
But the crowning achievement of the night occurred when a number of cars that passed through the area of the accident got tangled in the mess of wires lying on the road.
"Power lines were down everywhere. The transformer that was on the corner with the light pole was taken down. They drug them up the street and that was a problem with all the electric," a witness told the news network.
Richardson posted bond and was released several hours later. The NMSU dance major has since voluntarily resigned her title.
She's also far from the first beauty queen to get charged with tippling and driving.
In May, former Miss USA Rima Faikh received
six months of probation
after her 2011 arrest for driving while visibly impaired.
And ABC also
notes
that Miss University of Arkansas winner Sarah Gafvert was arrested in September after officers pulled her over and suspected her to be under the influence of alcohol.
A year's worth of cab chits may be something pageant organizers might want to consider adding to their list of prizes.